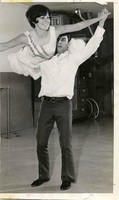 Mrs. Charlotte Lynn Talley Sloane, a lifetime resident of Montgomery and of 57I Capitol Parkway Court, died suddenly, July 9, 1978, in Atlanta, Georgia.
Funeral services were held from White Chapel, Tuesday, July 11, 1978, at 10 a.m. with Reverend Glenn Courtney and Reverend Jonn Lindsey officiating. Burial in Memorial Cemetery.
Survivors include the husband, Paul Steven Sloane, Montgomery; a daughter, Keri Lynn Sloane. Montgomery: Father and Mother, Mr. and Mrs. Melvin Talley, Montgomery.
Pallbearers were Bobby Sloane, Bill Sloane, Bruce Lyle, Jerry Dixon, Tommy Blankenship, and Randy Willis.