---
From Montgomery to the Matterhorn: A Personal, Political and Historical Account of Life in My Two Homelands Paperback – September 1, 2023
Part memoir, part introduction to life in Switzerland, 'From Montgomery to the Matterhorn' provides a special perspective on an American childhood and an adulthood spent adjusting to a new life in Europe. With her personal experiences as a springboard, the author explores many social, political, and historical aspects of life in both her 'homelands'; in doing so, she also offers an insight into the challenges inherent in moving to any new culture and how meeting these can not only widen one's horizons but also sharpen one's perceptions of which forms of government and which social/economic models provide the optimal basis for the well-being of its citizens.
---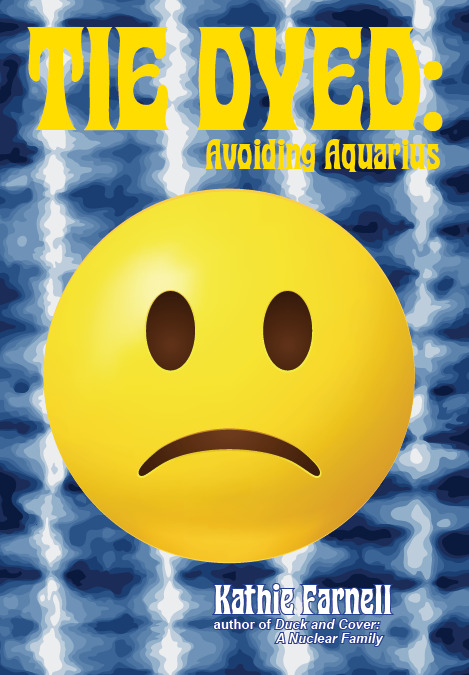 This is the Dawning of the Age of Aquarius. Now What?
A sardonic account of growing up during the hippie era in the Deep South
It's the late 60s and Kathie has a wardrobe problem: her mother doesn't think her skirts are short enough. Meanwhile, at enormous Sidney Lanier High School (football team: the Poets), the administration is ignoring the fact that somebody has planted marijuana in the library's ficus pot, and the official response to integration is to announce that students will no longer shower after PE. Kathie has PE first period. Do the math. On the home front, Kathie's brothers have started a pot plantation on the carport roof, and Granny, though dead, is in no hurry to vacate the premises. What a relief to escape to the small University of Montevallo, suspended in Jello since the 1950s, where there's no violence on campus and not much of anything else, either. Kathie may be missing the whole flower power vibe, but she stays pretty busy coping with hippies, Miss Poultry, and Jeb Stuart Magruder, not to mention answering all those Star Trek letters.
If she doesn't find her dream career soon, the alternative is law school.
Are they absolutely certain the Moon is in the Seventh House?
Advance Praise for Tie Dyed: Avoiding Aquarius
"Kathie Farnell's delightful memoir about growing up in Montgomery, Alabama, in a world, being turned upside down by racial, sexual, gender, and political revolutions is fine social history. It is also as clever as it is witty."--Wayne Flynt, author of Mockingbird Songs: My Friendship with Harper Lee and Keeping the Faith: Ordinary People, Extraordinary Lives
"In this hilarious account of her high school and college years in Alabama during the sixties and seventies, Kathie Farnell takes her place alongside such comic writers as David Sedaris and Rick Bragg. Her wry observations, her excellent portraits of family and friends, her willingness to laugh at herself, and her placing her own experiences into a larger historical and cultural context—all offer the reader a not-to-be-missed reading experience." --Norman McMillan, author of Distant Son: An Alabama Boyhood
"Kathie Farnell's Tie Dyed: Avoiding Aquarius presents a refreshingly sardonic take on coming-of-age during the 1960s and 70s. By turns blunt, ironic, and laugh-out-loud funny, Farnell is a wonderful narrator. Any reader who chooses to hang out with her in these pages will be amply rewarded."--John Sledge, author of Southern Bound and The Gulf of Mexico: A Maritime History
"Farnell's latest memoir Tie Dyed: Avoiding Aquarius is equal parts dramatic and hair-on-fire hilarious.
A follow-up to Duck and Cover: A Nuclear Family, Tie Dyed traces Farnell's high school and college trips in Alabama through the counter-culture sixties and early seventies where she's mostly a fish out of water, swimming against the "tied." Farnell's true-life tales are slap full of smart, sass, and sarcasm. She's got gumption, so get reading."--Alan Samry, author of Stump the Librarian: A Writer's Book of Legs
About the Author
Kathie Farnell was born in Montgomery, Alabama. She is a graduate of the University of Montevallo and the University of Alabama Law School.
She left the law practice in 1995 to produce radio and television programs. She collaborated with Smithsonian Productions on her first radio project, Remembering Slavery, which won the Gabriel Award.
Her memoir Duck and Cover: A Nuclear Family (University of South Carolina Press, 2017) was featured at the Southern Festival of Books and on C-SPAN's Book TV.
She lives ten miles inland from the Gulf of Mexico with her husband Jack Purser and an assortment of cats. Tie Dyed: Avoiding Aquarius is her second book.
Tie Dyed: Avoiding Aquarius
Kathie Farnell
Available March 2022
170 pages, 12 b&w illus., hardcover, $24.99, ebook, $21.99
For information or to schedule an interview contact Kathie Farnell, 251-943-2367, farnell@centurytel.net
Duck and Cover: A Nuclear Family, is a funny memoir about growing up in Atom Bomb Drill era Montgomery. Duck and Cover book was published by the University of South Carolina Press and is available from Amazon.com and major retailers.
In April the University of South Carolina Press will publish Kathie Farnell's wry, laconic memoir Duck and Cover: A Nuclear Family based on her perspective as a smart-mouthed, unreasonably optimistic white girl growing up in Cloverdale, a genteel and neatly landscaped neighborhood of Montgomery, Alabama, in the late 1950s and early 1960s.
During those decades Montgomery's social order was slowly — very slowly —changing. The bus boycott was over if not forgotten, Normandale Shopping Center had a display of the latest fallout shelters, and integration was on the horizon, though many still thought the water in the white and colored drinking fountains came from separate tanks.
Farnell's household, more like the Addams family than the Cleavers of Leave it to Beaver, included socially ambitious parents who were lawyers, two younger brothers, a live-in grandmother, and Libby, the family maid. Her father was a one-armed rageaholic given to strange business deals such as the one resulting in the family unintentionally owning a bakery. Mama, the quintessential attorney, could strike a jury but was hopeless at making Jello. Granny, a curmudgeon who kept a chamber pot under her bed, was always at odds with Libby, who had been in a bad mood since the bus boycott began.
Farnell deftly recounts tales of aluminum Christmas trees, the Hula-Hoop craze, road trips in the family's un-air-conditioned black Bel Air, show-and-tell involving a human skeleton, belatedly learning to swear, and even the pet chicken she didn't know she had. Her well-crafted prose reveals quirky and compelling characters in stories that don't ignore the dark side of the segregated South, as told from the wide-eyed perspective of a girl who is sometimes oblivious to and often mystified by its byzantine rules. Little did she know that the Age of Aquarius was just around the corner.
Read another review in the 'Midtown Montgomery Living'
---
From Mind To Market: The Beginner's Handbook
by J Mark Davis - Class of 1971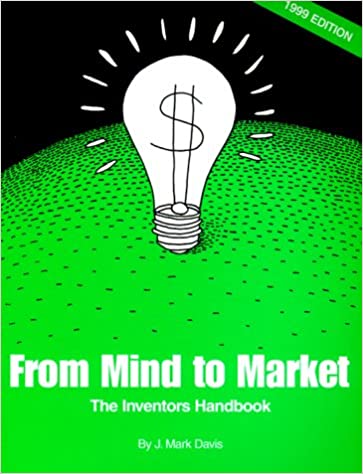 So you have an idea!
The US Patent and Trademark Office statistics show that 1 in 500 ideas are successfully marketed.
That 2 or 3 of 1,000 patents are successfully marketed.
From Mind to Market (r), The Inventor's Handbook will lead you, guide you, and inspire you to do something about your idea. From Mind to Market, Mark Davis, the inventor of the world-famous Eggsercizer (The World's Smallest Exerciser Machine (r)), will show you how he developed and marketed his egg-shaped hand exerciser.
Thomas Edison once said, "Many people miss opportunity because it shows up wearing overalls and looks like work." From Mind to Market is a super achievers resource guide that takes the excess work out of inventing.
-Patrick Norris
Eggsercizer is an ergonomically or as Mark says, "eggonomically" correct hand exercise device. Eggsercizer is used for physical therapy, sports/ fitness, stress reduction, smoking cessation, arthritis, and carpal tunnel syndrome. His new invention called Eggsportz, The Shape that fits your Sport, is a new hand exerciser incorporating the form of sports balls into the egg shape.
Many people laughed at Mark when he told them he was going to sell a rubber egg for $10.00. To date, Mark has sold over 1 million Eggsercizers in the US and over 35 foreign countries.
Eggsercizer has been featured in the Wall Street Journal, NY Times, ABC 20/20, ESPN, Inventor's Digest, Golf Magazine, Nations Business, CNN, CNN fn, CNN international, and many more. On August 3, 1998, People Magazine featured Mark as a successful inventor.
In From Mind to Market (r), Mark shares his successes and failures of Eggsercizer, and about the "how-to" and the "how not to" of the inventing process. Even though Mark's first patent attorney told him to give up on his idea, Mark persevered and successfully took his idea from mind to market.
---
Sweet Mystery: A Book of Remembering
by Judith Paterson - Class of 1955
In 1946, Judith Paterson was just nine years old when her mother died of a virulent combination of alcoholism and mental illness at the age of 31. Sweet Mystery is Paterson's harrowing account of her memories of her mother, told with eloquence and understanding. Set largely in Montgomery, Alabama, the story plays out against a background of relatives troubled almost as much by southern conflicts over race and class as by the fallout from a long family history of drinking, denial, and mental illness.
First published in 1996 by Farrar, Straus, and Giroux, Sweet Mystery has received critical acclaim in the national media. The Washington Post called it a beautifully written, excruciating collision of form and emotion, joy and pain, willpower and self-examination, control and surrender. And the Boston Globe characterized the memoir as a brilliant... feat of memory augmented by research. In building a historical context for her story, Paterson searched in attics and kitchens and county courthouses in Ohio, Kentucky, Virginia, Georgia, and Alabama. Along the way, she discovered not just the region but also the national heritage of an extraordinarily gifted and deeply troubled family.
---
Cops Say (And Do) The Funniest Things
by Glen Melton - Class of 1963
During his thirty-five-year law enforcement career, the author discovered that everyday police work, while sometimes stressful and even dangerous, has its moments of levity. Some of the stories he recalls herein are so hilarious they'll have you alternately laughing out loud and swearing they could never have happened. But they did. One thing is for sure: you will never regard law enforcement the same way again.
"The stories you are about to read are true. The names have been changed to protect the guilty.

I spent almost thirty-five years as a law enforcement officer. At different times, I was a police officer, a juvenile probation officer, and an adult probation-parole officer. During my career, I met many people from all walks of life: cops, attorneys, judges, and probation officers, many of whom fell victim to my love of practical jokes."
---
Heads or Tails
by Thornton Clark - Class of 1955
Many chapters are about many famous people Thornton knew, from Donald Trump to the Shah of Iran
Thornton Clark was born on August 8, 1937, 21 years after his sister and 18 years after his mother had a dangerous miscarriage and was told she could have no more normal children. That proved to be true. This book is the result of a most interesting life, involving wonderful jobs, travel throughout the world, meeting lots of important people, and having a remarkable number of unusual experiences. After nine years of writing, editing, and cutting, "Heads or Tales" was finally finished. Until a list of all the stories was compiled, Thornton would never have guessed that, even after lots of cutting, the book would include 403 stories. These are stories about growing up in Montgomery, Alabama, graduating from Harvard, attending several highly-unusual football games, golfing, canoeing and sailboat racing. There are stories about working all over the world; many chapters resulting from his traveling to more than a hundred countries, the major ones many times. Many chapters are about many famous people Thornton knew, from Donald Trump to the Shah of Iran. A few chapters describe experiences such as almost being murdered twice, being arrested twice for major crimes, taking extremely scary plane flights, working for our country's 13th largest bank, and experiences while sailing with his wife, Pat, in far-flung parts of the world, including living aboard their 55-foot sailboat for a year and half.
---
The Run That Changed the World
by Richard L Cohen - Class of 1968
Is a person's life preplanned and designed at birth, with prearranged triggers activating events that will guide life until death? Or is life simply a random set of unrelated events that can be attributed to coincidence— "shit happens," as they say. A series of seemingly unrelated events began to unfold over 16 months when a college professor woke up one morning and had a sudden urge to go to his synagogue for morning prayers. This act caused the start of a chain reaction that altered his life, the lives of his family and a group of total strangers and may have led to a platform for peace the world has sought for decades. The 95-year-old Polish mathematician, Esther Belitsky was spared from being murdered by an 18-minute delay in her morning routine. Will Murphy and Julie Coleman, two college scholar-athletes saved the life of the professor, who was out for a morning run when he was struck by lightning. They both went on to win gold medals at the 2016 Olympic Games in Rio. Professor Arthur Herman went on to become a 9-time Olympic gold medalist at age 66. The state of Israel may have found the path to a lasting peace by becoming a world-class force in athletics. Do random sets of events just happen as coincidence or does a planned simple act begin a chain of events that lead to the desired end? Whose end? Is everything in our lives really meant to be?
20at60 - A Baby Boomer's Run Across The U.S.:A Sixty Year Old's Running Journey Across the United States

(Black and White Version) by Mr. Richard L. Cohen (2013-04-05)



A 60-year-old baby boomer loses his business, his house, and almost all his life savings. He decides to fulfill a 20-year-old dream of running across the entire United States, from the Atlantic Ocean to the Pacific,2350 miles from Jacksonville Beach, Fl. to San Diego. 20 miles a day for 119 days through 8 states and 272 town and cities. A physical and psychological journey that takes this man from the depths of despair to the pinnacle of joy and contentment. His personal pleasure of running and the psychological strength built on running alone with nothing but his thoughts, over 600 hours of running through deserts, over mountains and through intense summer heat created a new and enlightened perspective of himself, others and the world in which he lives. Walden Pond in motion.
Running: The Best Cure For the Worst Relationship
by Mr. Richard L. Cohen
Paperback – October 28, 2016
Estranged twins Brian and Amy are sixty years old when chance throws them together at a party. A blow-up on Amy's part sets them on a course that leads to the reconciliation of their love, friendship, and emotional attachment. Years of no communication, petty differences and pent-up anger, wiped away their comfort, friendship, and love. A tragedy for twins who were inseparable as children. In the midst of a wedding reception Amy makes a public spectacle of herself and becomes enraged at her brother and throws down the gauntlet that she can run a marathon, as her brother had done eighteen times before. Facing humiliation, Amy sets out to train and run a marathon while losing over eighty pounds. Through the pains, pride, honesty, and self-reflection of running, Amy gains contentment and happiness that she always yearned for, which money and materials never could fulfill. With a much-improved sense of self and a feeling of pride and confidence, Amy opens herself up to regain what she had lost with her brother-- love and friendship.
About the author Richard L. Cohen
Runner of numerous marathons and the 128th individual since 1909 to make a running journey across the entire United States, 2350 miles, 20 miles a day from Jacksonville Beach, Florida to San Diego, California. Former counselor for individuals and families specializing in sibling and family relationships. Author: 20@60 A Baby Boomers Run Across the U.S.
---
Review "An entertaining account of how one southern city experienced the Second World War. . . . A native of Montgomery, . . . Newton employs this personal touch effectively, producing a human portrait of the war's impact that is also grounded in historical evidence. . . . Newton offers a well-written, colorful, and effectively impressionistic portrait of Montgomery during World War II that is valuable to all readers." —Alabama Review "Newton's history of Montgomery during the Second World War will delight readers. Using remembrances, letters, personal interviews, and newspapers, Newton is able to re-create the complicated military and naval campaigns of the war as well as the activities of those who stayed at home. He describes the history of the city from a sleepy little southern town divided by race in 1939 to a city much changed by the war's end." —Robert Jakeman, Auburn University "This is an engrossing book, bursting with lively anecdotes and personal stories. It reconstructs, a few other books have the wartime scene in an urban place. To read Wesley Philipps Newton's 'portrait of a southern city' is to discover how Montgomerians, black and white, experienced World War II and how they, as citizens and soldiers, dealt with wartime dangers, anxieties, and losses. The book is particularly effective at linking the home front to the battlefront, in personalizing the war by connecting the stories of those left behind to those overseas." —Journal of American History
About the Author Wesley Phillips Newton (1925-2012) was Professor Emeritus of History at Auburn University and coeditor, with Robert R. Rea, of Wings of Gold: An Account of Naval Aviation Training in World War II. Allen Cronenberg is former Director of the Center for Arts and Humanities at Auburn University and author of Forth to the Mighty Conflict: Alabama and World War II.
---
KIRKUS REVIEW selected SWEAT SISTERS as one its featured Indie books in a March 2017 issue. Less than 10% of reviewed books are given this honor. They said, "McPherson's natural, snappy dialogue and crisp pacing keep things lively while allowing deeper insight into her characters. A sparky, affecting slice-of-life drama."
The year is 2010, and four New Jersey middle school teachers are sweating their way through an unsettled contract, an aerobics class, and menopause. Alicia has started muttering to her scales. Barbara hasn't slept well in years. Phoebe gets her energy from avenging anger. And Marianna? Marianna is a train wreck. The national political climate looms relentlessly over them as they feel the sting of an aggressive new governor on the attack against teachers and other public employees. They bond, cry, console, and laugh together. They endure meltdowns, betrayals, and reinventions that ultimately bring them to a new understanding of themselves and the political realities that frustrate their desire to "just teach my kids."
---
American Happiness is an eclectic collection of verse from a bold poet of everyday life, Jacqueline Allen Trimble. Ironically titled, the work addresses everything from the death of parents to racial tension to the encroachment of coyotes into urban spaces.

The title is taken from a poem in the book which considers the kinder, gentler exploits of Sheriff Andy and Deputy Barney during a time when Southern law enforcement was neither universally kind or gentle. Says Trimble, "Barney had one bullet/and no need for a rope./The only burning he did was for his Thelma Lou."

On her poetic journey, which takes us from the personal to the political, Trimble probes our racial divide. She is by turns compassionate and fierce, cutting at our hypocrisy with the knife of her words and willing us toward our better common humanity.
---
Denny Abbott first encountered the Alabama Industrial School for Negro Children at Mt. Meigs as a twenty-one-year-old probation officer for the Montgomery County Family Court. He would become so concerned about conditions for black juvenile offenders there -- including hard labor, beatings, and rape -- that he took the State of Alabama to court to win reforms. With the help of the U.S. Justice Department, Abbott won a resounding victory that brought change, although three years later he had to sue the state again.
In They Had No Voice, Abbott details these battles and how his actions cost him his job and made him a pariah in his hometown, but resulted in better lives for Alabama's children. Abbott also tells of his later career as the first national director of the Adam Walsh Child Resource Center, where he helped focus attention on missing and exploited children and became widely recognized as an expert on children's issues.
---
The name Alabama comes from the Choctaw word meaning "clearers of the thickets," inspiring the title of this fascinating new book. Its purpose is to examine Alabama's early history beginning with the era of European colonization and culminating with the state's controversial secession from the Union—after just 41 years as a state (recognizing, of course, that the actual history began long before this emigration, with Native American civilizations). In so doing, the author traces how Alabama emerged from a raw frontier of European settlement into a fully functioning state that provided much-needed order to its new citizens.

The book begins by exploring the colonial period during which three European powers—Spain, France, and Great Britain—continually vied for control of what was to become part of Alabama. Each culture, along with the Native American communities that lived throughout most of the region, contributed to the development of the emerging territory and left its enduring stamp. Later chapters examine Alabama's territorial period, the Creek War of 1813-1814, the Constitutional Convention of 1819 and statehood, the first years of state government in Cahaba, removal of the capital to Tuscaloosa, King Cotton and the ignominy of slavery, further relocation of the capital to Montgomery as secession loomed, and social and economic advances during the antebellum period that were interrupted and stunted by the tragedy of secession and war.

"CLEARING THE THICKETS is narrative history in the grand old style—a spirited effort to make sense of the ideas, human beings, and events that came together to shape Alabama's first tumultuous decades. … Anyone interested in antebellum Alabama will be grateful for what Lewis has accomplished."
— Paul Pruitt, Jr., B.A., M.L.S., Ph.D.
Special Collection Librarian, Bounds Law Library, University of Alabama
Author of 'Taming Alabama: Lawyers and Reformers, 1804-1929' (2010)

"Lewis has carefully crafted a thoughtful, deliberate, and well-balanced history of antebellum Alabama. Perhaps not coincidentally, we are now in the decade of Alabama's bicentennial. In days such as these, his book should be on the shelf of anyone interested in Alabama's early history."
— James L. Noles, Jr., B.S., J.D.
Chairman, Alabama Humanities Foundation

"In the grand tradition of A.J. Pickett and A.B. Moore, Jim Lewis has produced a richly detailed, encyclopedic in scope, history of antebellum Alabama. Gracefully written, with unique insights provided by a career in government and law, his book weaves the rich diversity of the state's early history into a compelling tale replete with assorted heroes and heroines, scoundrels and statesmen, and fools and filibusterers. From wandering Spaniards to the 'fire-eating' politicians of the 1850s, he does not miss a stitch in the crazy quilt that became Alabama. Lewis obviously loves Alabama history. After reading CLEARING THE THICKETS, you will too."
— MartinEverse
Retired Director, Tannehill Ironworks Historical State Park and Brierfield Ironworks Historical State Park

Part of the "History & Heroes Series" from Quid Pro Books, this digital book features quality ebook formatting, active TOC, linked notes, active URLs in notes, and all the images from the print work.
---
Alabama's capital has roots all over the state. It first emerged in St. Stephens in 1799, a small fort acquired from the Spanish atop a tall limestone bluff overlooking the Tombigbee River. Next came Huntsville in the Tennessee Valley, where the state constitution emerged. Cahawba was the capital to receive a visit from the Marquis de Lafayette, the last surviving general of the American Revolution.
In 1826, Tuscaloosa took the reins for twenty years before the final move to Montgomery. Discover the leaders and events that established the state and the fates of each dynamic governmental center as author Jim Lewis traces the history of Alabama's Lost Capitals.
---
"I know of no other that book deals with pornography in the same way as Breaking the Bonds of Pornography. This book gives direction to the teacher and at the same time leaves an avenue where the teacher utilizes outside sources at his discretion. Breaking the Bonds of Pornography can be used as a series of scheduled lessons to take the practitioner through a logical and godly process. This includes illustrations, facts, statistics that are linked to a scriptural foundation, and practical steps that lead to dealing with pornography in the individual's life. In Breaking the Bonds of Pornography Dr. Robert Carter shows us the avenue to healing from sexual addiction and the possibility of living a free, productive life". --Otis R. Hughes, MA Christian Education Director Alabama District Council of the Assemblies of God
As a pastor, Dr. Robert Carter saw many in his church and in the community wrestling with pornography and sexual addiction. It is his hope that this book will help to set the captive free. Dr. Carter is an ordained Assembly of God minister and has served in ministry for 32 years. He is currently serving as the President of Barnabas Ministries, a non-profit ministry dedicated to healing the body of Christ through counseling, mediation, and seminars. He serves as a counselor for the Alabama District of the Assemblies of God. Dr. Carter has a doctorate in Christian Counseling and is dedicated to helping the hurting by equipping Christians to be healthy and effective for Jesus Christ. Dr. Carter and his wife Helen have been married 35 years and live in Alabama. Dr. Carter is also the author of Shut-In or Shut Out a book about ministry to senior citizens.
---
"Raw and unfiltered, meaningful writing from the heart." Bold women share the stories that bolstered their confidence to become business women, leaders, mothers, healers, politicians, artists, pilots and trendsetters.
In the safe haven of Kitchen Table Writing, creators from the 1950s to Columbine write life stories that resonate with women across generations. Everyone has a story to tell, and the courageous women featured in this collection have done just that.
Once a week for a year (some for more than four years!) these women wrote, shared, laughed, cried, and created a community of respect, appreciation, and support. They gathered at Kitchen Table Writing to "Write Your Life Story" and in the process changed their worlds and themselves.
These goddess warriors run with the wolves, take the road less traveled and are an inspiration to all generations.
---
To prove that I am a Poet, I am sharing the closing to my book.
Dark in the woods near Memphis, a hunter lost his way,
He stumbled 'midst the vines and limbs; heavy with dismay.
T'was then the forest opened where the moon showed all 'round,
T'was just some little crossroads. At last, some hope was found.
Chick-will's-widow sang in the darkness; the owl hooted its call.
That's when he heard it, muffled -- like shadows on a wall.
These sound so faint, he wondered; he questioned where he stood.
T'was only ghost still riding; their quest still haunts the woods.
Some say that they have heard them when the air is cold and still,
When the moonlight filters through the trees, with the song of the Whippoorwill.
A snort, a neigh, a rattle, creaking leather under load,
A troop of ghostly riders trots out upon the road.
None say that they have seen them, only whispers reach the ear,
The clatter of moving horses, their horse hooves ringing clear,
T'is but some dusty riders; their journey's never o'er,
But through the years they wander through the places of their lore.
A general is said to lead them, "Up men and to your posts!"
Out on the dusty road they trot, these horses and these ghosts.
Their memory strong, their legend grows and spread by word of mouth,
Dark in the woods near Memphis and other places through the South.
Lee Suydam
---
Forever Blue:




The Me

moirs of a Lanier High School and
University of Kentucky Football Coach
They still call him "Coach." Bill Moseley closed out his career as a football player and coach almost 60 years ago, but his former players still call him "Coach," because his mentorship has meant that much to them over the decades. Growing up hardscrabble in Depression-era Montgomery, Alabama, Bill began his playing days at Sidney Lanier High School. He garnered a scholarship to the University of Kentucky, where he played for two years before joining the U.S. Army Air Forces. While on active duty as a gunner on B-29s, he played another college football season and became the first player in the history of the Sun Bowl to score two passing touchdowns (a milestone he accomplished under an assumed name). After military service, Moseley played his final two years at the University of Kentucky (for a total of five legitimate college football seasons) under the aegis of Paul "Bear" Bryant. He then coached exclusively at his high school and college alma maters, where he interpolated not only Bryant's coaching techniques but the Bear's motivational abilities. And Moseley's players took his life lessons to heart: Many became notable and successful coaches themselves; Many became successful business and civic leaders; One became a U.S. ambassador to France; One was inducted into the Pro Football Hall of Fame. Coach Bill Moseley's inspiring guidance still resonates with his former players, and his story is one of exemplary and honest leadership. It's obvious that these days, the sports world could use more coaches like him.
This is a great read about one of our most storied student, coach, and alumnus, Bill Moseley (Class of 1941). Dust off the old memories of yesteryear in Montgomery and enjoy the stories straight from Coach Moseley as he dictates them to his son Willie G Moseley (Class of 1968).
Forever Blue was released in December of 2013 by New South Books. It is available in softcover and as an ebook. Click on the link below to order.
For information on signed copies, contact willie@vintageguitar.com.
Listen to Coach Moseley's Radio Interview on WTLS
---
It's More than Shootouts and Car Chases takes you inside the life of a Montgomery Police Officer in the capital city of Alabama.
Corporal Smith began his career as a nineteen-year-old police cadet working in an administrative capacity, until attending the police academy in 1983. As a trainee, Smith started the police academy with twenty fellow recruits and sixteen grueling weeks later, graduating with only six. You experience from the beginning what it takes to become a Montgomery police officer.
This detailed, factual account provides the reader with an inside look from being shot at as a rookie officer while investigating a car burglary, to being involved in two police shootings and working the deaths of two fellow officers as an evidence technician.
Throughout his twenty year career, Corporal Steve Smith shares his experiences that will have you laughing one moment and then a call of "shots fired" will show you the true dangers of being a police officer. As Corporal Steve Smith shares his true-life experiences he also shares his faith in the Lord as he serves and protects the citizens of Montgomery.
---
Patriots and Rebels is a true story, imagined, set in the years 1863-65. In it, we encounter the stark reality of patriotism and rebellion played out in the words, thoughts, experiences, and emotions of Thomas Files and his fourteen-year-old daughter Mary Francis. Born and raised in the hill country of north Alabama, Tom is determined to defend the United States of America as his ancestors had done in 1776. His strong sense of patriotic loyalty places him and his family in situations of profound conflict and danger.
After Tom's one-year enlistment with the First Alabama Cavalry, United States Volunteers, his return home would place him and his family in great jeopardy. For two years he seeks safety and finds adventure in the wide-ranging company of Northern compatriots. These adventures place him in positions to experience some of the most interesting minor and major events near the end of the war in the Deep South. Among these are Streight's Mule Brigade, General Nathan Bedford Forrest's Fort Pillow Massacre, the Battle of Nashville (depicted on the cover) and heavy-handed Federal military rule in Kentucky. He is captured by General John Bell Hood's troops near Nashville, from whom he escapes only to be arrested by Union forces in Decatur, Alabama on suspicion of being a Confederate spy. Meanwhile, Fannie, her little sisters, and mother struggle to survive under dire circumstances of persecution, isolation, and hostility. In different ways and circumstances, all of them come to grips with what it means to be a patriot or a rebel, or both, and endure the consequences of well-meant plans gone awry.
'Patriots and Rebels' is based on the actual records of real people, as found in the National Archives and published biographical sketches. There were at least a hundred thousand men like Tom Files - white Southerners fighting for the Union -- from every Confederate state except South Carolina. Their story has been largely neglected, particularly in historical fiction.
Publication Date:

Apr 22 2014

ISBN/EAN13:

149917926X / 9781499179262

LCCN:

2014907497

Page Count:

286

Binding Type:

US Trade Paper

Trim Size:

5.25" x 8"

Language:

English

Color:

Black and White

Related Categories:

Fiction / Historical
About the author:
JOHN C. BUSH was born in the Florida Panhandle and grew up in Montgomery, Alabama, with ancestral roots in Virginia Colony, 1670. His career as a Presbyterian minister took him from Alabama to Kansas, Missouri, Kentucky, and Michigan and back to Alabama. In retirement, he and his wife make their home in the Tennessee Valley of North Alabama, placing them in and near many of the locations where much of this story takes place. He is author or editor of four non-fiction books; PATRIOTS AND REBELS is his first novel.
---
... keeping memories of a great high school alive.
The fine education I got there served me well as I made my way through college and a teaching career, eventually retiring from a junior college as Professor of English. The high standards I held my students to were inspired by my time in service with the Navy and Marines, but especially by the standards, I was held to at Lanier. I didn't graduate with my classmates, some since elementary school, because I lacked a half-credit in typing. I got my diploma in the principal's office in July after making up my deficiencies.
I used my typing skills to complete four college degrees and a teaching career. Now, in retirement, I'm using them to write many essays and letters to the editor. One of my op-eds in the Atlanta Journal-Constitution landed me on TV personality Bill O'Reilly's enemies list, and I love the notoriety. I am currently completing a memoir which includes sections on my experiences in Cloverdale School and Lanier.
In 2006 I published Chinaberry Summer: Riverton, Alabama 1947, a novel which draws heavily on my summer of that year in the Cloverdale district near Huntingdon College, where I grew up. The sales have been only fair, but I have received much good feedback. A couple of years ago, while teaching at Reinhardt College nearby, I used the novel as the textbook for a remedial English class. If any of my fellow Poets are interested in the book, it can be found on Amazon in both paper and electronic format.