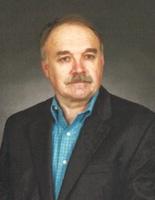 Arthur Bruce Brewer, also known as "Dr. B.," was born in Pasadena, Texas to Norma Bruce Nabors and Leo Ira Louis Brewer, Sr. on October 18, 1951. He was raised in Montgomery, Alabama. He attended the local schools and received two degrees (BA and MA) from the University of Alabama and his Ph.D. from Georgia State. He worked at Auburn University in Montgomery before he transferred to West Georgia College, now the University of West Georgia, and then worked for 25 years as the Director of Career Services and taught in the Department of Psychology.
Bruce leaves behind his wife, Patricia, of 43 years; his son Frank Hollifield (Dana); son, Patrick Hollifield (Suzy) and daughter, April Nestor (Matt). His grandchildren are James, Bella, and Mary Hollifield; Davis and Morgan Hollifield and Rian Nestor. He leaves behind both of his parents, Norma Bruce Nabors and Leo Ira Louis Brewer, Sr. He also leaves behind his sister, Barbara Janet Taylor (Grant); brother, Leo "Lee" Ira Louis Brewer, Jr. (Kimberly) and brother, William "Bill" David Brewer (Connie) along with his five nieces and nephews.
Bruce was very active in the church before he developed Parkinson's disease. He was a Sunday school teacher, active in the men's groups and the choir. He was very active in the community in many organizations and clubs as well as educational groups throughout the Southeastern region.
He loved to walk and meet people along the way. He loved the Lord and spent his life helping other people. Bruce never met a stranger and treated everyone the same. He was truly an "Angel of the Lord." He exemplified a life spent living according to God's commandments and will, as well as being a sterling example of kindness and decency in his interactions with all during his life.
A memorial service will be held at King's Chapel Presbyterian Church on Highway 27 South at 4 pm on May 8, 2021. Attire will be business casual.
In lieu of flowers, the family would appreciate donations to be made to the:

American Parkinson's Disease Association of Georgia
P.O. Box 49416
Atlanta GA 30359

Kings Chapel Presbyterian Church
1916 S. Hwy. 27
Carrollton GA 30117

Carrollton Winds Orchestra
Messages of condolences may be expressed to the family online at www.almonfuneralhome.com.
Almon Funeral Home of Carrollton has charge of arrangements.