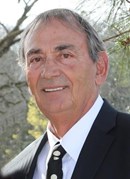 Michael W. Kelley, 68, a great man known and loved by many, went to be with the Lord on November 30, 2017. Larger than life, commanding every room he entered, Mike made everyone feel like they were his best friends. He never met a stranger and would help anyone he could.
Mike was born to Talmadge Ernest Kelley and Lula Belle Kelley on May 19, 1949, in Montgomery, Alabama. He grew up off Old Selma Road in Montgomery and spent many days at West End Boys Club. Mike came from a racing family, with both of his parents honored in the Alabama Auto Racing Pioneers Hall of Fame in Talladega, Alabama. He was a graduate of Sidney Lanier High School, where he led the Poets to the first-ever football high school championship game in 1966 and was named the MVP of that game. Mike was an all-around athlete and was named all-state in baseball, basketball, and football during his high school athletic career. After being recruited for football by the University of Alabama, the University of Kentucky, Clemson University, and more, he chose to attend Auburn University and accepted his scholarship in 1967. After football, Mike continued competing and played Fast Pitch softball leading his team to national prominence. He was inducted into the Blue Gray Fast Pitch Hall of Fame in 1989 and the Alabama Fast Pitch Hall of Fame in 2001.
From Auburn, Mike returned to Montgomery where he was President of the family business, Kelley's Auto Parts until he began his own company, Mike Kelley Enterprises, Inc. (MKE) in 1982. He grew MKE, Inc. into a very successful business, thriving over the last 35 years. As in all things, Mike was a leader in his profession and became the President of the Alabama Automobile Dealers Association, where he worked in setting legislation and regulations for the industry.
Mike was very active in the community, where he served on the Board of Directors for both the Boys and Girls Ranch of Alabama and Iron Man Ministries. He was a man of faith and had a deep love for the Lord. Mike was baptized on September 17, 1961, at Trinity Baptist Church in Montgomery. He was an ordained deacon and a member of the Poundstone Sunday School Class at First Baptist Church Montgomery. Mike was quick to share his testimony and faith with everyone he met. He touched lives with both his words and actions and lived out his faith daily.
Mike married his life-long sweetheart, Jackie Wilhoite, in 1968. Inseparable since they were nine years old, Mike and Jackie spent 59 years together and were married for 49 of those years. They have three children, seven grandchildren, and one great-grandchild. With all of his outstanding accomplishments in his life, Mike would be the first to tell you that his family was his greatest achievement. A true family man, a wonderful husband, an amazing father and grandfather, and a real friend to so many, Mike's absence will be felt far and wide for a long time to come.
Mike was preceded in death by his parents, T.E. and Lula Belle Kelley, and brother Ernest Kelley. He is survived by his wife, Jackie Kelley, Pike Road; Daughters Michelle (Tim) Jackson, Auburn, AL; Ashley (Shan) McLain, Prattville, AL; Son Michael (Traci) Kelley II, Pike Road, AL; Grandchildren - Taylor McLain, Prattville, AL; Alexandra McLain, Prattville, AL; Caden McLain, Prattville, AL; Teddy Grace Jackson, Auburn, AL; Emma Presley Jackson, Auburn, AL; Michael Kelley III, Pike Road, AL; Luke Kelley, Pike Road, AL; and great-grandson Liam McLain, Prattville, AL.
Pallbearers: Kenny Mendelsohn, Ricky Ward, Jack Helvin, Tommy Paul, Branden Kelley, Dalton Kelley, Mike Jemison, and Sonny Hull.
Honorary Pallbearers: Pat Dye, Gene Chizik, Eddie Reinhardt, Bubba Lewis, Jimmy Speigner, Danny Speigner, Bucky Ferrell, Judi Jehle, Janie Little, Clyde Jinright, Charles Jinright, Jerry Johnson, David Johnson, Tommy Evans, Frank Cox, John Henig, Mike Watkins, QV Lowe, and the Poundstone Sunday School Class.
Donations can be made in Mike's memory to:

Iron Man Ministries
6449 Norman Bridge Road
Montgomery Alabama 36105
A Funeral Service will be held at 12:00 p.m. on Wednesday, December 6, 2017, at First Baptist Church Montgomery, with Rev. Jay Wolf and Reverend Glenn Brock, officiating. Visitation will begin at 10:00 a.m. until time of service. A private, family burial at Alabama Heritage will follow.
Published in the Montgomery Advertiser from Dec. 3 to Dec. 4, 2017.