Former players remember Lanier legend Bill Joiner
(Ethan Bernal, Montgomery Advertiser 9:53 p.m. CST February 2, 2015)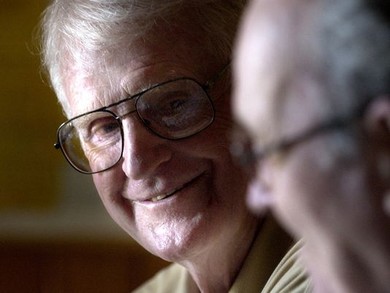 The Sidney Lanier family is in mourning today. [Monday, February 2, 2015]
Bill Joiner, who led the Poets to four state boys basketball championships from 1962-67, who was 235-43 in nine seasons as a head basketball coach from 1961-70 and who is a namesake for the school's gymnasium, died Sunday. He was 83.
Joiner, who was also the school's head football coach and athletic director from 1969-73, was inducted into the AHSAA Hall of Fame in 2004. The school named its gymnasium Walker-Joiner Gymnasium in the 1980s.
Joiner's son, Allen, said he's received an outpouring of support.
"As much as I knew my dad was a great man, it hits even more, the lives that he touched," Allen said. "I've had more people tell me, other than their dad, he was the most important person in their lives by teaching them hard work, discipline and teamwork. He was tough, he was a very tough coach.
"Maybe not loved as much while they were doing it, but once they got in the real world they realized what he was trying to teach."
Joiner also played for Lanier's 1949 state championship basketball team as a senior.
Phillip Young played football for Joiner when he was an assistant from 1966-68, and remained in touch ever since.
"His favorite quote that's still drilled in my brain today," Young said. "'You get out of basketball what you put into basketball. And anything in life, what you put forward is what you'll get out of it.' He had a work ethic that he engrained in all of us that was second to none.
"It's very sad. I lost a great mentor and a great friend."
Joiner is survived by his wife, Joyce J. Joiner; his son Allen Joiner; and his daughter Leslie Joiner Bishop. He also has two grandchildren, Alan and Brandt Bishop, and a great grandchild, Kate Bishop.
After coaching, he started Olympia Sporting Goods in 1973 and worked with Allen and Leslie. Joiner worked until selling Olympia in May.
John Bricken, Lanier's boys basketball coach from 1974-93, played for Joiner in 1962-63.
"He was a great man and taught me a lot," Bricken said. "He definitely put Montgomery on the map. He's quite a figure for Lanier High School."
Services will be held at Leak Memorial Chapel. Visitation will be from 5-7 p.m. Wednesday, and a chapel service will be at 2 p.m. Thursday. Burial will be at Greenwood Cemetery.
In lieu of flowers, the family asks memorials be made to Children's Harbor in Alexander City.