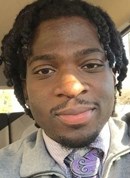 Mr. Kendrick Yemer Johnson transitioned from earth to Glory, September 23, 2017. He was preceded in death by his grandmother, Mrs. Jessie Johnson and his uncles, Jimmy Williams and Michael Johnson. He was a 2010 graduate of Sidney Lanier High School and was currently attending Alabama State University.
Ken leaves to cherish his memory three loving daughters, Skylar Johnson, Chasitie Johnson and Kennedi Johnson; loving and devoted mother, Flemmie Johnson; loving father, Keven Harris; loving and devoted fiance' Cidnee Carter; three brothers, Quindarius Johnson, Jaxon and Bryson Harris; loving and devoted grandparents, Tommy Harris, Fannie Smith-Harris; two aunts, Keanitra Harris and Voncile Anthony; five uncles, Gary (Sandra) Johnson, Reginald Johnson, Keante' (Celeste) Harris, Lorenzo (Debranette) Anthony, LaConey (Karin) Anthony and Shalako Bradley; nine great aunts, Norma Bishop, Annie Latimore, Debra Williams, Georgia Jackson, Lela (Jimmy) Ford, Dorothye Anthony, and Patricia Edwards; seven great uncles, Charles Thornton, Alfred Thornton, Roger Thornton, Willie (Carol) Thornton, Herman (Yulander) Thornton, Homer (Christine)Harris, and Charles (Patricia) Harris; Godmother, Della Mae (Hurtis) Vaughn; devoted friends, Clifford Benson, Keondria Artis, Larita Smith, Kendrick Brown, Ladarius Smith, Kawaskey Smith, Dkyndre Davis, Lakwajame Richards Sr., Dexter Thornton, Lakisha Williams and Charles Johnson. A host of cousins and friends.
Funeral services will be held Saturday, September 30, 2017, at 1:00 p.m. at St. Stephens Baptist Church with Reverend Demond Jones, officiating. Interment in Forest Hills Cemetery, Snowdoun, Alabama. The processional will leave from 6725 Capouano Drive.
Published in the Montgomery Advertiser from September 25 to September 29, 2017