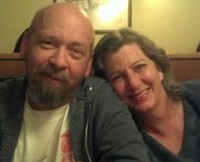 Terryl "Terry" D. Simonton, age 51, passed away December 12, 2014. He was preceded in death by his father Richard D. (Dick) Simonton, Sr., brother Richard D. (Rick) Simonton, Jr., grandparents Dale and Freddie Simonton, and Tom and Phyllis Canada.
Terry is survived by his beloved wife of twenty-eight years, Cara (Spears), daughter Amanda (Billy) Killian, son Mason and granddaughter Kiera. He is also survived by his mother Reatha, sister-in-law Alison of Montgomery, brothers Randy (Carol) of Montgomery, Jim (Tonya) of Wetumpka, sisters Lisa (Randy) Whitmore of Auburn, Jennifer (Les) Johnson of Millbrook and sister by choice Tiffany Ross of Birmingham. He had 17 nieces and nephews.
Terry had an extreme sense of adventure and an eternal joyous love for life. From canoeing to hiking to everything in the sky, he truly lived life to the fullest. His laughter and light was contagious. Making other people laugh was essential to his happiness from doing an impromptu magic and balloon animal show to introducing people to his exotic pets. He had a God-given ability to be himself in any situation.
Family was the most important thing in his life and he considered his friends to be part of his family as well. He was always there to help them in any way and, in his last days, was blessed to have the favors of outpouring love returned.
After battling juvenile diabetes from age 11, Terry finally succumbed to the physical complications of the disease, surrounded by his family.
The family will receive friends for visitation at GracePointe Church of Christ at 1565 Ray Thorington Rd., Montgomery AL on Sunday December 14, 2014 from 2:00-3:00 pm. Celebration of Terry's life will follow beginning at 3:00 pm.
Pallbearers will be Mason Simonton, Billy Killian, Randy Simonton, Jim Simonton, Randy Whitmore, Les Johnson, Russ Long, Ed Spears, Jerry Canada, Tod Stewart, Steve Smith, and Frank Scott. In lieu of flowers, the family would appreciate donations to www.gofundme.com/irvxxk or the American Diabetes Association.