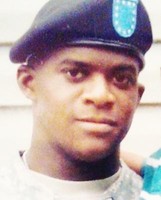 Mr. Byron D. Herbert, 29, a resident of Montgomery, Alabama, departed this life Sunday, March 29, 2015 in Elizabethtown, Kentucky.
Byron is an alumni of Sidney Lanier High School and a 2004 graduate of Exploratorium Academy.
Byron leaves to cherish his memories two loving children, Harris X Herbert and Devyn A. Herbert; devoted parents, Lana and Therron Herbert; one brother, Brandon Herbert; two sisters, Beverly Herbert and Nikki Cromedy; grandparents, Willie Ruth Payne, Beulah and Sam Herbert; nieces, Dalaija and Caniya; nephews, Cameron and Christian; aunts, Barbara Payne, Elaine McClemore, Christy Herbert, Georgia Wright, Mary (Isaac) Llano's and Bridgette Combs; uncles, Jonathan Herbert, Alix (Audrey) Payne, and Stevie Payne; along with a host great aunts, and uncles, cousins, relatives and friends.
Funeral services will be held April 11, 2015 at 10:00 AM from Ross-Clayton Funeral Home Chapel. Interment will follow in Forest Hills Memorial Park.
Published in the Montgomery Advertiser from Apr. 4 to Apr. 10, 2015.