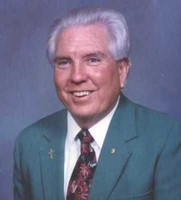 Franklin Talmadge Bailey, 80, born on April 15, 1934 in Cochran, Georgia, passed away peacefully surrounded by his family after an extended illness.
Mr. Bailey officiated the sports of football and basketball for 30 years. He retired from Civil service at SOS Athletics on Maxwell Air Force Base after 33 years of service and from the Alabama Army National Guard after 20 years. He was a deacon, Sunday school teacher, and a choir member for many years at Chisholm Baptist Church.
Mr Bailey is survived by his wife of 60 years, Dorothy Bailey; son, Steve (Bonnie) Bailey; daughters, Lisa (Jerry) Schmacker, Kim (Mitch) Smith; sister, Lois (Jack) Kelly; brother, Philip "Pete" (Judy) Bailey; grandchildren, Lindsay (Travis) Tyler, Steven (Catherine) Bailey, Justin Bazzell, Brandon(Tiffany)Bazzell, Kara Smith and Lauren Smith; eight great-grandchildren.
Visitation will be held on Sunday, April 20, 2014 at Leak Memory Chapel from 5:00 pm until 7:00 pm. Funeral services will be held at Leak Memory Chapel on Monday, April 21, 2014 at 3:00 pm with Reverend John Gaines officiating. Burial will follow in Greenwood Cemetery.
Flowers will be accepted or Donations to Chisholm Baptist Church.

Published in the Montgomery Advertiser on Apr. 20, 2014