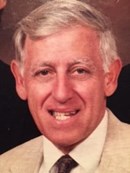 John Anthony Kamburis fell asleep in the Lord peacefully at his home on Thursday, February 16, with his loving family at his side. John was born in Montgomery, Alabama to the late Anthony John and Irene Kamburis of Patmos, Greece. He was a devoted husband and his Family was paramount. John is predeceased by his sister Anna A. Kamburis, brother Michael A. Kamburis, his sister in law Helen J. Manolakis, and in-laws James and Katherine Manolakis.
John is survived by his wife, Georgia Manolakis Kamburis, his children Anthony and Kim Kamburis and James (Jimmy) and Allaire Kamburis, his grandchildren, Sophia, Georgia, Alexis, James, and Eleni Kamburis, his brother Danny and sister in law Ria Kamburis, his brother Charles and sister in law Harriette Kamburis, his sister Maria Kamburis, his brother in law John and Mary Manolakis and many nieces and nephews.
John will always be remembered as a kind and honest man with a wonderful sense of humor. His wisdom and wit will be a fond memory to his family and friends. He enjoyed life.
John served in the United States Air Force for 4 years stationed in Anchorage, Alaska and received a degree in Business Administration at Huntingdon College. He was employed by the Alabama Department of Transportation for over 39 years and worked with Larry E. Speaks and Associates since the founding of the company in 1976.
John was a dedicated member of the Annunciation Greek Orthodox Church, having served as a member of the Parish Council for over 20 years. He also was a member of AHEPA 23 as well as a Mason and a member of the Alcazar Shriners for 50 years.
A visitation will be held on Monday, February 20, 5-7pm, Leak Memory Chapel, 945 Lincoln Road, Montgomery, Alabama. A Trisagion service will be held on Tuesday, February 21, 10:30 am at the Annunciation Greek Orthodox Church, 1721 Mount Meigs Road, Montgomery, Alabama. The Funeral Service will follow. Father Paul Costopoulos will be officiating. The burial will take place at Greenwood Cemetery.
In lieu of flowers, those wishing may make memorial donations to the Annunciation Greek Orthodox Church. May his memory be eternal.
Leak Memory Chapel, 945 Lincoln Road, Montgomery Alabama 36109. 334-272-6501
Published in the Montgomery Advertiser on Feb. 19, 2017.