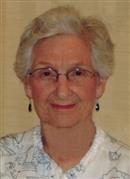 Louise Mae Hocking Smith, wife of the late Harwell Fitzhugh Smith, Jr. died on May 3, 2016 at Roswell, Georgia, Louise was born in Shanghai, China in 1926 to Samuel Hocking and Ada Eikmeyer. With the death of her mother immediately after her birth, Louise was brought to Dayton, Ohio, where she was cared for by her mother's parents until her father married Evelyn McMillan when Louise was 6-years old.
Louise met Harwell in the first grade in Montgomery, Alabama. The couple grew up together and married on May 21, 1949.Louise devoted the middle years of her life to rearing her three children. Then in 1973 she completed her college education at the University of Tennessee, graduating with a B.A. in Library Science. Her degree complemented her previous and subsequent work at the Oak Ridge Public Library.
Louise's life in the community included devotion to St. Stephen's Episcopal Church where she was a Daughter of the King and sang in the choir for many years. After her children left home, she was a counselor on the Contact help line for several years. Bridge Club and Gourmet Club were central features of her life in Oak Ridge.
Louise moved to Roswell Georgia in 2009 to be near Wayne and his young family. Universally regarded as a generous and loving person, Louise lived her life with unflagging joie de vivre. Voted 'Most Friendly' by her Lanier High School class, Louise sustained an unconditional love and benevolence toward all who knew her throughout her life.
Louise is survived by her children, Harwell Fitzhugh Smith, III (Marta) and daughter, Hayley Manion Smith (Jarrett Zerrer), Evelyn Louise Smith (Chuck Keiser) and children, Charles Stith Keiser and Nancy Rebecca Keiser (John McGeoch), and, Wayne Hunter Smith (Melanie) and children Samuel Hunter Smith and Evelyn Elizabeth Smith, and her nephew, Neil Justin Smith.
The Family requests that in lieu of flowers, a donation be made to Creativity for Peace, 369 Montezuma Avenue, Santa Fe, NM, 87501.
A memorial service will be held at St. Stephen's Episcopal Church in Oak Ridge, TN on Saturday July 9, 2016 at 2:00pm with a reception following.
Published in the Montgomery Advertiser from May 10 to May 11, 2016.