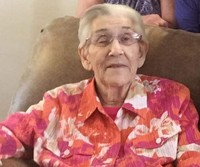 Edith Jordan Howell, a resident of Prattville, Alabama, died peacefully on April 13, 2018, at the age of 81. She was preceded in death by her parents, Clarence Eldridge Jordan and Eula Barron Jordan; her husband, James Burns Howell, and one infant son, James Burns Howell, Jr.; brothers John W. and Stanley Likens; and sisters Ina Jordan Mims and Audrianne Jordan Warren.
She is survived by her children, Cheryl Simpson (David), David Howell (Sarah) and Barbara Gates; six grandchildren; seven great-grandchildren; one great-great-grandchild; and her best friend Mary Gouley.
Edith was born on April 25, 1936, in Montgomery, Alabama, to Clarence Jordan and Eula Jordan. She married her high school sweetheart, James Howell, on February 14, 1953. She was an avid gardener who loved to grow both flowers and vegetables. She was devoted to her family and her Lord and was active in His church. Her greatest accomplishment was bringing her family to know the love of the Lord.
Funeral services will be held at Leak Memory Chapel on Tuesday, April 17, 2018, at 2:00 p.m. in Montgomery, Alabama, with Pastor Cliff Stever officiating. Burial will follow in Greenwood Cemetery. The family will receive family and friends one hour prior to services.
The family would like to thank the management and staff of The Harbor at Hickory Hill and Baptist Hospice for their wonderful care of our Mother. We especially want to thank Greta Wells for her loving attention and devotion to Momma during her final days.
Momma previously requested contributions be made to Yarbrough St. Baptist Church in lieu of flowers.
Online condolences may be made at www.LEAK-MC.com
Published in the Montgomery Advertiser on Apr. 16, 2018.