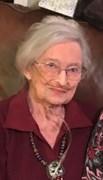 Sara E. Cohn Kohn Davidson, 83, passed away at home on June 12, 2018.
She is survived by her loving son J. Mark Kohn, a dear daughter-in-law Beverly and three devoted granddaughters whom she loved dearly, Leah M. Frymire, Amanda K. Lee (Scott), Korie L. Lowry (Christian); 4 great-granddaughters, Kelsea, Sydney, Ashton and Addison; and 2 great-grandsons, Carson and Max.
Sara was a member of Keneseth Israel Congregation and Keneseth Israel Sisterhood in Louisville, Kentucky. She was a native of Alabama and once a business owner there. She loved being a wife and mother but really loved being a Bubbie.
Expressions of sympathy may be made to:

Keneseth Israel Congregation in Louisville, Kentucky,
Agudath Israel Congregation in Montgomery, Alabama,
Or the charity of your choice.
Graveside services will be conducted on Friday, June 15, 2018, at 11:00 AM at Greenwood Cemetery in Montgomery, Alabama.
Published in the Montgomery Advertiser on June 14, 2018.