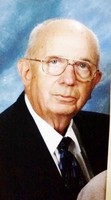 Rufus Winfred Harris entered the gates of Heaven on Tuesday, February 24, 2015. Mr. Harris was preceded in death by his parents, Lloyd Homer Harris and Vivian Davis Harris; a brother Harlan Harris; sisters, Madeline Harris Allen and Gwen Harris Nichols; his wife's parents, Howard N. Petty and Mada Casteel Petty,; brother-in-law Gene Petty, and sister-in-laws Johnnie Petty Bartleston and Betty Jane Petty Jones.
He is survived by his wife and children Teresa (Ray) Hessler of Jasper, AL, Andrew (Dianne) Harris of Pensacola, FL, and Richard Wayne Harris (Ida) of Newton, AL; grandchildren Karyn (Joseph) Hicks, Kenneth (Audra) Hessler, Melissa Kelly, Jeffrey (Jennifer) Bostwick; great-grandchildren Kathryn Hessler, Caroline Hessler, Sophie Kelly, Lawrence Kelly, and Jonathan Bostwick and beloved grand-dog Scooter.
Born September 15, 1934 in Elmore County, Alabama, he married his high-school sweetheart, Marjorie Alice Petty, in January 1954. They were blessed to celebrate their 61st anniversary just weeks before his death. Mr. Harris had a strong devotion to God, family, and country and served in the United States Navy from 1951-1955.
Mr. Harris was a long-time member of Eastmont Baptist Church in Montgomery, Alabama, before moving to Pensacola, Florida in 2006 where he attended Olive Baptist Church.
Mr. Harris was well known and respected in the electronics parts industry having worked at Handy Electronics, Forbes Godfrey Electronics, and Lykes Electronics in several southeastern locations.
The family wishes to thank Dr. Alecia Chen, and the staffs of Broadview Assisted Living and Covenant Hospice for the wonderful care and concern provided to Mr. Harris and the family. A special thanks to his hospice nurses Barbara and Trish, social worker Al, and nursing assistant Trish.
A celebration of his home-going will be held at 12 noon on Friday, February 27, 2015 at Eastern Gate Memorial Gardens and Funeral Home, 1985 West Nine Mile Road, Pensacola, FL with Dr. Stan Lewis officiating. Visitation will be from 1100-1200 before the services. Interment will follow at the same location.
In lieu of flowers, memorial donations can be made to Covenant Hospice.
Arrangements by Eastern Gate Memorial Funeral Home and Gardens.
Published in the Montgomery Advertiser on Feb. 26, 2015.