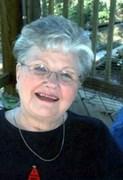 Annie "Joyce" Duke, 85, of Coosada, passed away October 17, 2018. She is preceded by her husband of 56 years, Fletcher "Harry" Duke, her daughter, Bambi Lynn Duke, her son, Bruce Harold Duke, and her parents Atlas Vernon Smith and Terrance Virginia Smith.
She is survived by her daughter Barbara VanCor (Pat), her grandchildren, Edgar Duke (Paige), Amber Oiler, Dalton VanCor, Amanda Sumrall (Brad) and Talon VanCor.
She is also survived by her great-grandchildren Kendall Duke, Peyton Smith, Mason Oiler, Lincoln Oiler, Kaden Rhys Sumrall, Eva Kayt Sumrall, and Arwyn Grey Sumrall and her great-great-grandchildren, Brody Duke and Harley Falkner and one "adopted" grandson, David Bates.
Mrs. Duke graduated from Sidney Lanier High school and she also earned a degree from AUM in Criminal Justice. She enjoyed dancing, boating, singing in the choir and going to the casino. Most of all she loved her kids and grandkids. She was "Granny" to everyone.
Services for Mrs. Duke will be Monday, October 22, 2018, at 1 PM at Leak Memory Chapel with a visitation Sunday, October 21, 2018, from 5 PM to 7 PM.
The family would like to extend a special thanks to Allison and Tracey at Baptist Hospice.
Published in the Montgomery Advertiser on Oct. 21, 2018