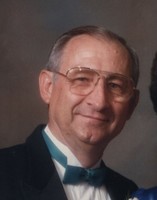 Owen Nelson Reese, 83, of Montgomery, passed away on March 30, 2018. He is survived by his wife of 60 years, Betty Stoudenmire Reese; his children, Elizabeth Reese Hill (Brant) and Owen Nelson Reese II (Johna); three grandsons, Owen Nelson Reese III, Austin John Reese, John Brant Hill II.
He was retired from the Alabama Department of Transportation after 43 years of service, and a member of Heritage Baptist Church. His hobbies included building, designing, and racing modified midget race cars. He was the National Modified Midget Association (NMMA) National Champion in 1971.
Honorary pallbearers will be his lifelong friends; John Kennedy, Pat Little, Henry Copeland, Jack Crenshaw, Bill Berry, Rick Barregarye and Pat Hicks. Pallbearers will include the grandsons, Brant Hill, Andy Wise, Wade Stoudenmire, Wes Stoudenmire and Josh Norris.
Visitation will be held on Monday, April 2, 2018, at Leak Memory Chapel, from 12:00 pm until 2:00 pm, with the Celebration of Life service at 2:00 pm, and burial will follow in Greenwood Serenity Cemetery.
Published in the Montgomery Advertiser on Apr. 1, 2018.