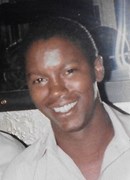 TSGT Reginald V. Jones, Sr. ("R.V.") transitioned to his heavenly home on March 12, 2017. He was a member of the 187th Fighter Wing.
The home going services will be held Saturday, March 18, 2017 at 12:00 P.M. at Valley Park Baptist Church located at 3820 Woodley Rd, Montgomery, Alabama 36116, Rev. Jim Wilson, Pastor, with Rev. Michael R. Garrett officiating. Interment will be held at Alabama Heritage Cemetery with the staff of E. G. Cummings Memorial Funeral Home directing. The body of Mr. Jones will lie in repose one hour prior to funeral service at the church.
Published in the Montgomery Advertiser from Mar. 14 to Mar. 17, 2017.