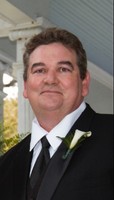 July 10, 1956 - March 1, 2017
David Ralph Cross, 60, a resident of Mobile, Alabama, passed away on March 1, 2017, with family by his side. He was preceded in death by his parents, Kenneth Nelson Cross and Marcia Cade Cross.
David was born and raised in Montgomery, Alabama. He attended Lanier High School and Central Academy in Montgomery and also Auburn University. David enjoyed watching sports, listening to music and spending time with family.
David is survived by his children Jonathan Cross (Mary Katherine), Danielle Stout (Paul) and stepdaughter Paige Keeter; brother Ken Cross (Maria); grandchildren CJ Keeter, Robert Stout and Cadence Cross; nieces Amy Barnett (Grant) and Rebecca Cross; great-nieces Miakayla Cross and Jordan Barnett.
Burial Service will be held at Pine Crest Cemetery West on Saturday, March 18, 2017 at 1:00 pm.
Published in the Mobile Register and Baldwin County on Mar. 3, 2017