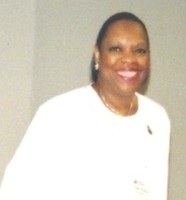 Faye Lavern Benson Ankom (Nanna), was born on Monday, August 29, 1955 at St. Jude Hospital to the late Ossie L. Sanders and the late Calvin Surls, Sr.
She grew up in Centerville, Alabama before moving to Montgomery in 1964 at the age of nine. Her teenage years were spent as a student at Sidney Lanier High School. Upon graduation, her love for the health care field led her to study nursing at the City of St. Jude School of Practical Nursing. During her professional career she worked for Dr. James E. Caple, Dr. William Abernathy, Dr. Jack Wool and Dr. William O. Sargeant.
On January 26, 2014, God decided her work here on earth was finished and He called her home.
Her memory will be forever cherished by: her husband, Albert Ankom; two daughters, Terri (Anthony) Waller, Lithonia, GA; April Barnett(Shedrick) Calloway, Montgomery, AL; three step-daughters, Albertina Ankom, Montgomery, AL; Stephanie Ankom, Duluth, GA; and Escambia McLean, Montgomery, AL; nine grandchildren, and two great-grandchildren and a host of other relatives and friends.
Funeral services will be held Sat., Feb. 1, 2014 at 12:00 Noon from the chapel of Phillips-Riley Funeral Home with Rev. Shedrick L. Abner, officiating. Interment will follow in Montgomery Memorial Cemetery with the staff of Phillips-Riley Funeral Home directing.
Published in the Montgomery Advertiser on Jan. 31, 2014