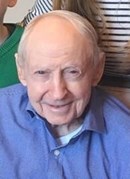 James O. Struthers "Jimmy", 94, of Montgomery, passed away, January 11, 2018.
He was preceded in death by his wife, Alicia O. Struthers; his parents, Eddie N. Struthers Sr. and Mary L. Struthers; and brother Ed Struthers Jr. He is survived by his daughters, Dawn Dekoning (Hans), Carol Nobles (Dan) and Susan O'Neal (Greg); five grandchildren, Marty Boswell, Jeffrey Boswell (Debra),Laura Blackwell (Josh), Daniel Nobles, Grace O'Neal, and five great-grandchildren, two brothers, Howard Struthers (Patsy), Billy Struthers (Peggy), sister-in-law, Helen Struthers; and several nieces and nephews.
He was a member of Highland Gardens Baptist Church for over 60 years, serving his Lord, as a deacon, usher, and Sunday school teacher. He was a loving son, husband, father, grandfather, brother, and friend.
Visitation will be held at Leak Memory Chapel, Monday, January 15, 2018, from 12:30 pm until 1:45 pm, with graveside services at 2:00 pm in Greenwood Serenity Cemetery, Randy Bush will be officiating.
In lieu of flowers, the family asks that you make donations to your favorite charity.
Published in the Montgomery Advertiser on Jan. 14, 2018,