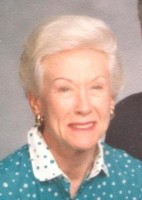 Frances Howze Green, age 91, passed away on the 7th day of March, 2014 in Hermitage, Tennessee. She was preceded in death by her husband, Charles T. Green (Charlie), parents, Lawrence Pettway Howze and Ida Lucus Howze, and brothers, Lawrence Howze and William Howze.
Fran was born in and grew up in Marion, Alabama, where she graduated from Judson College. She and her husband enjoyed traveling and were avid golfers. They were among the founding members of Cherokee Country Club in Atlanta.
Fran was a member of The Church of the Atonement in Atlanta, Georgia and affiliated with Hermitage United Methodist Church in Hermitage, Tennessee. She is survived by her son, Charles T. Green, Jr. (Chuck) and daughter-in-law, Amelia Green.
Graveside service will be held at Greenwood Memorial Gardens in Montgomery, Alabama on Saturday, March 15, 2014 at 10 am.
The family wishes to thank the many friends and caregivers for every act of kindness shown during Fran's illness.
In lieu of flowers, memorials may be made to Alzheimer's Association 225 N. Michigan Ave., Floor 17, Chicago, IL 60601.
Published in the Montgomery Advertiser on Mar. 14, 2014