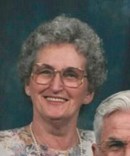 Lorena Grier Jones of Montgomery, went to be with her loving Savior and Friend on July 12, 2016, after a long illness.
Lorena married her childhood sweetheart, Paul (Moon Jones) on July 18, 1946.They were blessed with 7 children,16 grandchildren and 39 great-grandchildren, and 5 great-great-grandchildren.
Lorena loved spending time with her family and was a wonderful cook. She also loved working in the yard and planting trees and flowers.
Lorena will mostly be remembered for her love and faith of her Lord Jesus Christ and spreading his word, also the Love of her life, and husband of 70 years, Paul L Jones. The love, devotion and sacrifice for her children and grandchildren will forever be in our hearts.
Lorena was preceded in death by her parents, Coley and Myrtle Grier, her sisters, Faye Squires and Mary Lou Treynor, her grandson Robbie Jones, great-grandson Jacob Jinright, daughter-in-law Debbie Jones (wife of Robert Jones) and son in law Jimmy Hughes (husband of Linda Hughes).
She is survived by her husband and Love, Paul L. Jones and her children, Carol Jones, Robert Jones, Mary Faye Peoples, Linda Hughes, Debbie Elwell ,Mark Jones, and Coley Jones. She is also survived by 15 grandchildren, and 38 great-grandchildren and 5 great-great-grandchildren.
Services will be held at White Chapel-Greenwood Funeral Home on Friday, July 15, 2016. Visitation is set for 10:00am with a memorial celebration at 11:00am. Graveside will follow at Greenwood Serenity Cemetery.
Proverbs 31
"Her children arise up and bless her, her husband also and he praises her saying: Many daughters have done nobly, but you excel them all."
Published in the Montgomery Advertiser on July 14, 2016.