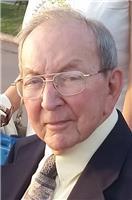 Bibb J. Dickey, affectionately called "Poppy" by his close family, passed away peacefully on Monday, July 4th, 2016, surrounded by many loved ones. He was born the last of ten children to John Kirby Dickey and Sallie Adell Owens on May 8th, 1928 in Grady, Crenshaw County, Alabama, which he referred to as "God's country". He spent his childhood there before eventually moving to Montgomery and graduating from Sidney Lanier High School.
After high school he joined the U.S. Army Air Corps. After his military service, he moved back to Montgomery and began his civil service career. He met the love of his life, Dot, on a blind date arranged by his best friend, Doug Waters. They married on February 16, 1952 and moved to Warner Robins, GA, where he worked at Robins Air Force Base.
While in Georgia, they welcomed their daughters, Risé and Faye, both born in 1954. In 1955, they transferred to Eglin Air Force Base and moved to Defuniak Springs until purchasing their first home in Fort Walton Beach, FL. In 1959, they welcomed their only son, Bibb Joel Dickey Jr., born on his father's birthday, May 8th. In 1961, Bibb accepted an assignment at Keesler Air Force Base and the family moved to Biloxi, MS. From there, it was an exciting five years following Bibb's assignments to California, New York, Tennessee, and many other places.
Bibb's career brought them back to Fort Walton Beach permanently and his continued civil service spanned more than 35 years. During his career, he worked mostly in air force defense including radar, aviation electronics, and fly-by-wire missile defense systems. He was also involved in the operations of some of the first flight simulators at Eglin AFB. He was honored to receive personal commendation from President Eisenhower for his team's role in receiving signals from Sputnik in late 1957.
After retiring in 1984, Bibb joined B&C Fire Safety and started the alarm division, where he enjoyed working alongside Bo and Dot Alligood and the rest of the team for over 30 years.
In 1970, he and Dot built their dream home on Don's Bayou, where he embraced the bayou life. Many days and nights were spent on the water with family skiing, fishing, and boating. He took great pride in his yard, including his flower and vegetable gardens, and could often be found tinkering in his workshop. Dot and Bibb thoroughly enjoyed their retirement, realizing life-long dreams of travel with friends and family. They were always faithful and active church members wherever they lived, and have called First Baptist Church of FWB their church home for over 40 years. They both served in the Sunday School Department, helped with baptisms, and Bibb served as a deacon and also ran the sound system for many years.
Bibb was a diehard Alabama football fan. He was known for his quick wit, sense of fun, and enjoyment of life. His love for family and friends was very evident in the way he lived. Poppy was a much beloved son, husband, father, uncle, grandfather, and friend, and will be greatly missed.
He was preceded in death by many family members including his wife Dot, his parents, four brothers (Herman, Osban, Wilson, and Buddy), five sisters (Helen, Flora, Virginia, Sara, and Vivian Grace), and great granddaughter Kierston Kierce. He is survived by his sisters Mabel (Alton) Long of Birmingham, AL and Martha Francis (Ranny) Cauthen of Dothan, AL; brothers Tommy (Peggy) Dickey of Andalusia, AL and Walter (Sandra) Dickey of Bradleyton, AL; sisters-in-law Sara Harrington of Macon, GA, Jean Henderson of Dadeville, AL, and Forest Lane Dickey of Grady, AL; his daughters, Risé Street and Faye (John) Klumpp, and son Joel Dickey Jr. all of Fort Walton Beach, and his grandchildren, Michelle (Mark) McCann of Sugarloaf Key, FL, Jessica Lee Jarosz of Fort Walton Beach, Mandy (Dave) Gros, of Daphne, AL, Matthew Joel (Brandy Jones) Kierce and Steven Street, both of Fort Walton Beach, Bibb Joel "Trae" Dickey, III, of New York, NY, Ana Alexandra "Alex" Dickey of Nashville, TN; and his great grandchildren Jillian & Avery Jarosz and Tyler & Trevor Gros; and many beloved nieces and nephews. The family would like to thank dear Don's Bayou neighbors Neil and Jacquie, and Lendy, for always being there for Bibb.
The family will receive friends at 9 AM on Saturday, July 9, 2016 at First Baptist Church of Fort Walton Beach, 21 First Street SE in Fort Walton Beach. The funeral service will follow at 10 AM also at First Baptist Church. Burial to follow at Beal Memorial Cemetery in Fort Walton Beach. The family also extends an invitation to a celebration of life following the graveside service, which will be held at Twisted Grape Café located at 1193B Eglin Parkway in Shalimar. Flowers are welcomed or donations can be made in Bibb's name to the First Baptist Church of Fort Walton Beach.
Expressions of love and sympathy may be placed and viewed online at www.emeraldcoastfuneralhome.com.
Published Online in Northwest Florida Daily News from July 7 to July 8, 2016.