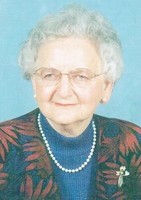 Hazel Dean Faulkner Rickabaugh, age 88, passed on to meet her Lord Nov. 20, 2015. Hazel was a resident of Madison, AL but was born in Inverness, AL January 20, 1927. She spent her early life growing up in Southern Alabama, living in Union Springs, Midway, and Montgomery.
Hazel graduated from Sidney Lanier High School in 1945. She met the love of her life, Willard C. Rickabaugh, while he was on temporary duty with the USAF in Montgomery. After a short engagement, the two were married July 7, 1950. They remained happily married until he preceded her in death May 10, 1989.
During their marriage they had five children: Rodney Rickabaugh (Willard's son), Belinda Foss, Roy Rickabaugh, Ronnie Rickabaugh, and Willard K. Rickabaugh. Hazel was a dedicated service wife who supported her husband throughout his long and distinguished USAF career. Her dedication included numerous moves to at least seven different states and two foreign countries.
Hazel was an active member of Trinity Baptist Church in Madison, AL and was a long time member of Ridgecrest Baptist Church in Montgomery, AL. Hazel was a devout Christian who always thought of others before herself and was a shining example of living a Christ-filled life. She passed after a short illness.
Having family who attended both schools, Hazel cheered for both Auburn and Alabama on Saturdays. Her wish each year for the Iron Bowl was that the game be competitive and that the best team win. Throughout her life the number "7" played a significant role and had special meaning for her. She was the 7th of nine siblings, she was the 7th of her siblings to be married and she was married on July 7th - 7/7. On the date 7/7/1977 she celebrated her 27th wedding anniversary. One of the few times she ever gambled she won a jackpot by hitting four 7s. Finally, she is the 7th sibling to pass in her family and true to form she waited until 7 p.m. to go meet Jesus.
Visitation will be Tuesday, Nov. 24 from 4 to 6 p.m. at Gray Funeral Home, Union Springs, AL. Funeral service will be Wednesday, Nov. 25 starting at 10 a.m. A graveside service will follow at the Macedonia Baptist Church. Minister Eddie Newton, nephew of the deceased, will officiate the funeral.
She was preceded in death by her husband, her son, Willard K., her father, Calep Faulkner, her mother, Dora Mae Faulkner, her brothers, Lucious, Willard, James (Shorty), Robert, Hugh, and her sister, Louise Adams. She is survived by four children; 11 grandchildren; 15 great-grandchildren, and two siblings, (Elna Newton and Lois Barnes).
In lieu of flowers donations can be sent to The Childhood Leukemia Foundation, 807 Mantoloking Road, Brick, NJ 08723 in memory of Willard K. and Hazel F. Rickabaugh.