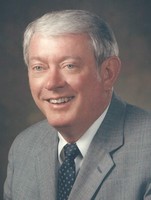 Mr. George F. Bailey, Jr., passed away from this green earth at sunrise April 30, 2014 after a brief illness. A native of Montgomery, AL, he was 85 years old upon his death. He graduated from Sidney Lanier High School and attended the University of Alabama in Tuscaloosa. He then spent four years in The United States Army during the Korean War Conflict. Mr. Bailey is survived by three sisters, Betty Shirley of Tuscaloosa, AL, Evelyn Britton of Montgomery, AL, and Francis Nicrosi of Montgomery, AL. He has three children, George F. Bailey, III of Pike Road, Alabama, Linda McLemore of Ada, Alabama, and Richard D. Bailey, currently in Perth, Australia; Six grandchildren, Mary Lackey Bailey, Molly McLemore, Lilly McLemore, Rich Bailey, Wilson Bailey and Duncan Bailey.

Partnering with his father, George F. Bailey, Sr., they both owned and managed Parker-Sledge Hardware Company for 64 years until the business was sold in 1990. Serving in the State House of Representatives from 1958 to 1962, Bubber cultivated a career in politics and public relations and went on to become a lobbyist for the Alabama Railroad Association and eventually retiring from CSX Railroad Transportation in 1999. Never meeting a stranger, Bubber truly enjoyed helping others and was bestowed with many life-long friends and associates until his death.

An avid outdoorsman from an early age and a natural shot in the field, Bubber competed in many skeet tournaments throughout the southeast winning honors and friends. Hunting the wild turkey, quail and dove were paramount in his life and part of his shooting sports. He pursued these up until the beginning of his illness. Highly competitive in the field, he rarely slowed down.

Funeral arrangements are as follows: the service will be held at Leak Memory chapel located at 945 Lincoln Road, Montgomery, at 3:00 p.m., Tuesday, May 6, 2014. Visitation will be from 2:00 p.m. to 3:00 p.m. in the Chapel with a graveside service to follow at Greenwood Cemetery, located next door. Ministers providing for both services will be Reverend Richard D. Bailey (son) and Reverend Joe Lizenby of Greenville, Alabama. Active pallbearers will be Cheryl Farrow, Richard "Dick" Bounds, David Patrick, Chuck Robbins, Roger Yonker, Robbins Taylor, Phil Norton, Greg Pappas and Jake Jones. Honorary pallbearers will be Paul Bryant, Jr., Linda Christy, Parker Mount, Billy Hughes and Herman Franco.

In lieu of flowers, donations may be made in honor of Bubber Bailey to the Alabama Wildlife Federation or The Montgomery Ballet.

Published in the Montgomery Advertiser from May 3 to May 4, 2014.