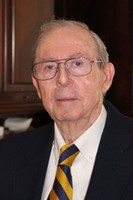 Joseph A. Burkhardt, 86, passed away July 12, 2014 at his home in Baton Rouge, Louisiana, with his three children Mike, 61; Patty, 59 and Diane, 56, by his side.
Joe was born on April 23, 1928 and raised in Montgomery, Alabama. He spent two years in the Navy and attended Auburn University graduating with honors in engineering physics. Upon his graduation he accepted a position with Exxon (Humble Oil) Research and Development. and married Norma Lou Burrows, a marriage that lasted close to 60 years before her passing.
Over the years he received many awards and honors most recently the 2012 OTC Distinguished Achievement Award for his concept and systems engineering of Exxon USA's Subsea Production System. He will receive in September posthumously the OEC Hall of Fame Industry Award in Houston,TX. Joe leaves behind three children, three grandchildren and four great-grandchildren. Two of his famous quotes were, "Getting old ain't for sissies" And "Getting the family together is like herding cats."
Services will be held at Leak Memory Chapel, Friday, July 18, 2014 at 11:00am. Burial will follow in Greenwood Cemetery. Visitation is scheduled for one hour prior to the service.
In lieu of flowers, donations can be made in his name "Joseph A. Burkhardt" to St. Jude Children's Research Hospital by calling (800) 822-6344 or emailing www.StJude.org.
On line condolences may be made at www.LEAK-MC.com.
Published in the Montgomery Advertiser on July 17, 2014.
---
---
2014 Pioneering Technologies
Production Technology:
Humble Submerged Production System (SPS)
---
In the early 1960s, the offshore oil and gas industry was in its infancy concerning concepts, research and development of remote location and deepwater (then over 300 ft.) production systems. Humble Oil and Refining Co. started a development program that would last for over 30 years and guide it into developing ground breaking concepts, research and initial development of many of the systems, configurations and equipment that would lead to today's ultra-deepwater production systems.. After considerable prototype development, full blown SPS multi-well template and manifold systems were installed in the North Sea with the first being Shell-Esso Central Cormorant Project in 1982-83 and the next being the Norwegian Sea Saga-Esso Snorre Project in 1991.
The SPS perhaps had the most pronounced influence on remote location and deepwater subsea production of any of the large projects of its type and resulted in many "firsts" that led to the widespread successful and economic use of subsea production systems today. Some examples: the template and manifold concept of multi-well development; through-tubing, pump-down workover and intervention; metal-to-metal seals on piping and valves; leak containment for the manifold; remote repair and replacement of components; using ROVs for manifold intervention;aerospace-type quality control and construction techniques; oil pressure compensation for hydraulic and electrical control pods; inductive electrical signal and power couplers; water depth pressure compensated failsafe valves; MODU installation of large manifold production systems; subsea production pump and oil/gas separation systems; and articulated marine risers. These were only a few of the concepts and technology associated with the SPS project over its 30 plus year lifetime.
The SPS was truly a concept and technological pioneer in the early development of subsea production systems for ultra-deepwater.

Recognizing the pioneering efforts of the following individuals and organizations that contributed to this technology:
Joseph A. Burkhardt, Thomas W. Childers, Roger J. Koerner, Johnny A. Kopecky, William D. Loth, J. Preston Mason, and Daniel R. Tidwell, General Electric, Global Marine (now Transocean), Humble Oil and Refining Company (now ExxonMobil), Rockwell-McEvoy (now Cameron), TRW Subsea (now Aker Solutions), and Vetco Offshore (now GE Oil and Gas)
---
---
The Offshore Technology Conference (OTC) will present its 2012 Distinguished Achievement awards on 29 April to Joe Burkhardt for engineering Exxon USA's subsea production system (SPS) and to Shell's Perdido development project. The awards will be presented at the annual OTC dinner at the George R Brown Convention Center in Houston, kicking off the world's largest conference for offshore development 30 April to 3 May at Reliant Park.
Mr Burkhardt is being honored for his leadership and contributions to the industry, in particular, his record of developing subsea and offshore technology advancements and tools, including the development of many concepts that are still in use today. He is credited with leading the concept and system engineering of the SPS, a shallow-water pilot program that was recognized as OTC's Project of the Year in 1980. He has also co-authored and received numerous patents for these concepts that helped advance offshore technology for exploration and production.
Shell is being recognized for Perdido, an ultra-deepwater development of the Great White, Silver Tip and Tobago fields in the remote southwestern Gulf of Mexico. The Perdido project pushes the ultra-deepwater boundaries by applying technologies to what was thought to be an impossible field with inherited challenges such as extreme water depth, rugged seafloor terrain, low-temperature and low-pressure reservoirs, and fluids with aggressive hydrate formation tendency.
For more information on the 2012 OTC, click here.