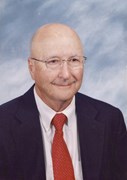 Forrest Talma McConnell, ,Jr., 89, died peacefully in his Montgomery home on Sunday, May 7, 2017. Funeral services will be held at the Episcopal Church of the Ascension on Thursday, May 11 at 11:00 a.m. with the Reverend John Coleman and the Reverend Rosa Lindahl officiating. Burial will follow in Greenwood Cemetery. Visitation will be held at 3233 Thomas Avenue on Wednesday, May 10 from 4:00 to 8:00 p.m. and in Ascension Hall on Thursday prior to the service from 10:00 to 11:00 a.m.
Forrest is preceded in death by his mother, Sadie Hurst McConnell, his father, Forrest Talma McConnell, Sr., his grandson, John Andrew McConnell, and his son-in-law, John Walter Stowers, Jr. He is survived by his wife of 64 years, Jane Woolfolk McConnell; their children, Jennie McConnell Stowers; Pat McConnell Moorehouse and her husband, John; Forrest Talma McConnell, III and his wife, Jennifer; and William Gray McConnell and his wife, Heather. He also leaves behind his grandchildren, Sara Moorehouse; Laura Kate Frazier and her husband, Wesley; Caroline Lawson Moorehouse; Forrest Talma McConnell, IV and his wife, Julie; Heather Sellers McConnell; and Mary Jane McConnell.
Born on November 14, 1927, Forrest was a life-long resident of Montgomery, Alabama. He attended Duke University and the University of Alabama, where he was a member of Kappa Alpha fraternity. After a tour of duty in the U.S. Army, in 1950, he joined the McConnell Brothers automobile firm, which his father and uncle founded in 1919. He was active in this successful business for over 45 years. The business continues today as McConnell Honda and Acura and now is managed by his two sons.
Forrest was very active in numerous business, civic, and church affairs. He was past president of the Alabama Automobile Dealers Association, served as a member of the National Honda Dealer Council Advisory Board, and was honored as the recipient of the Alabama Time Magazine Quality Dealer of the Year for his service to the community and automobile industry. He also served as past president and a founding member of the Montgomery Kiwanis Club, past president of the local American Cancer Society Board, a Board of Director for First Alabama Bank / Regions Bank, and a supporter of many YMCA activities. Forrest was an active member of the Church of the Ascension, served on the vestry, taught Sunday school, and led the Men's Prayer Breakfast. Affiliated with the Montgomery Country Club for almost 70 years, he volunteered as its historian for many years.
Forrest was an avid and accomplished golfer throughout his life, and cherished his many trips to Scotland with friends to play its historic courses. His passions included collecting antique golf clubs and memorabilia and studying the history of the game of golf. Forrest's generosity, gregarious nature, and "never meet a stranger" approach to life was adored by his family, fellow church members, lunch groups, and golfing friends. Whether Junior, as his family affectionately called him, was passing out two dollar bills, distributing unique gifts, or sharing a long story, one rarely left his presence without a smile or chuckle.
Honorary pallbearers are Richard Babington, Richard Ball, Tom Coleman, Sterling Culpepper, Taylor Dawson, Sam Dolman, Frank Evans, Stuart Franco, Edward Hails, Bowen Hill, Frank Knowles, Richard McGowin, John Scott, Dan Stallings, and Charles Voltz.
The McConnell family is grateful for his loving caregivers, Marilyn Tell, Sheila Walker, Sandra Ross, Lillie Franklin, Vanessa Tymes, Shameka Jackson, Sheketa Wright, Vernita Jennings and the entire staff of Jennings Professional Services.
In lieu of flowers, the family requests that memorials be made to a charity of your choice or
The Episcopal Church of the Ascension
315 Clanton Avenue
Montgomery AL 36104
Published in the Montgomery Advertiser from May 9 to May 11, 2017.