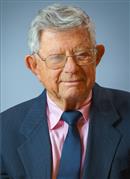 William "Bill" Thomas Boyett, 89 years old of Huntsville, Alabama, went to be with the Lord Wednesday, March 30, 2016. He is preceded in death by his parents Walter and Rena Boyett, his sister Elaine Boyett and his wife Hazel Boyett.
Bill is survived by his wife Ann Boyett; his brother Walter Boyett Jr. (Inez); and his children Rick Boyett, Alan Boyett (Teri), Marcella Boyett Willis (Jim), Clay Waters (Jana), Mark Waters (Shelly), and Dodd Waters; ten grandchildren and ten great-grandchildren.
Bill was born on February 7, 1927 in Montgomery, Alabama to Walter and Rena Boyett. He married Hazel Truitt in 1946 and they were married for 46 years until her passing in 1992. Bill then married Ann Harrod Waters in 1994.
Bill was a World War II veteran serving in the Air Force. He was a medic at Keesler Air Force Base, Biloxi, Mississippi. Bill owned and operated Boyett Brothers Auto Service for over 60 years in Montgomery, Alabama. Bill was a member of the Andrew Jackson Masonic Lodge in Montgomery for over fifty years.
Bill is known for his involvement in his church communities. He was a charter member of Heritage Baptist Church in Montgomery and an active member of Hillwood Baptist Church in Huntsville.
A memorial service will be held in Huntsville on April 2, 2016 at Hillwood Baptist Church with visitation beginning 1:00pm and the service at 2:00pm.
A second memorial service will be held in Montgomery, April 3, 2016, at Heritage Baptist Church. Visitation will begin at 1:00pm and the service at 2:00pm. Burial will follow at Greenwood Cemetery in Montgomery.
Bill always helped those in need during his life, the family wants to continue this in his rise to glory. In lieu of flowers, the family is requesting a donation be made in his name to his churches.
Please designate:
Plus One Ministry
Hillwood Baptist Church
Huntsville AL
or
Benevolence Fund
Heritage Baptist Church
Montgomery AL
Berryhill Funeral Home of Huntsville is assisting the family.
Published in the Montgomery Advertiser on Apr. 2, 2016.