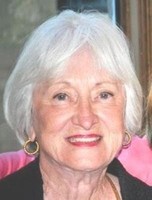 Jane R. Edwards, 74, died on Saturday, May 24, 2014 after a long fought battle with cancer. She was born 2/11/1940 and spent her early years in Double Springs, Alabama, with her mother (Willie Erselle Tingle Ricketts) and father (Sidney Ricketts). Jane moved to Montgomery, Alabama, where she attended Baldwin Junior High and Lanier High School, becoming a superb teacher and leader as an entrepreneurial business woman and philanthropist; she was the owner and proprietor of Data Processing Services (DPS) until her retirement in 1983.
She loved her husband, children, grand-children, and great-grand-children immensely. She provided the entire family with a strong foundation of love, faith, and zest for life. Jane is survived by her husband, Guerry Edwards, who loved her and took great care of her through her final days. She is further survived by her 2 children, Eddie DeVore (Melissa) of Athens, AL and Debbie DeVore Lee (Johnny) of Wetumpka, AL; her 6 step-children, Tom Cantey of Tujunga, CA, Charles Cantey (Lori) of Atlanta, GA, Carol Cantey of Montgomery, AL, Lucy Cantey of Montgomery, AL, Sandy Edwards (Leigh Ann) of Savannah, GA, and Shannon Edwards (Rossana) of Mobile, AL; her sister, Willie Mae Lovel of Houston, TX; twelve grand-children, six great-grandchildren, and her beloved pet Sir Nicholas "Nick" of Redland.
Jane was involved in many church and community organizations; she was a Board Member of the Baptist Health Care Foundation, former Board Member of the Montgomery County Historical Society, long-time member of St. John's Episcopal Church, where she was active in the Episcopal Church Women (President in 1998), Saint Anne's Guild, and was a member of the Order of the Daughters of the King. She was a member of the Jasmine Garden Club, Montgomery Country Club, and had close friends in the Thursday Bridge Club and "Lunch Bunch".
Through a Charitable Remainder UniTrust established by Jane and her previous husband (now deceased) Thomas Clifton Cantey, Jr; charitable beneficiaries and scholarships include the University of Alabama (Culverhouse College of Commerce and Business Administration), Baptist Health Care Foundation, Auburn University, and St John's Episcopal Church.
All those who knew Jane will remember her fun-loving nature, generosity, compassion, exuberance, fierce determination, and bold intellect. The family thanks the many friends and family members with whom we have spent wonderful times through the years and who provided so much love, friendship, and support during Jane's life and through her final days. Jane will be forever missed and always in our hearts.
The family would like to sincerely thank the Baptist Hospice Staff, especially Susan and Natasha, for the comfort they gave to Jane and the family during the toughest of times.
A private burial service will be held, with a memorial service celebrating Jane's life being conducted with family and friends at Young Meadows Presbyterian Church at 11:00AM on Wednesday, May 28, 2014. Visitation with family will be observed one hour prior to the memorial service. Jim Simoneau, the Senior Pastor of Young Meadows Presbyterian Church in Montgomery, where Jane and Guerry have been active members during their 11 years of happy marriage, will preside over the services.
Pall bearers are Robby DeVore, Alan Cantey, Scott Cantey, Colby DeVore (grandsons), and long-time friends, Tony Edwards and Ben Kelly. Donations to Young Meadows Presbyterian Church are requested in lieu of flowers.
Published in the Montgomery Advertiser from May 26 to May 27, 2014.