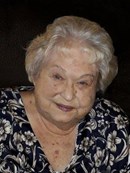 On May 23, 2018, Carol received her ultimate healing as she journeyed to her new home in heaven. Carol Russell Sewell Lawley, age 79, was a resident of Montgomery, Alabama, and a member of the Sidney Lanier Class of 1957. She is preceded in death by her parents, Mack and Vyrtes Russell; her friend and father to her children, Johnny Francis Sewell.
Carol is survived by her children, Mike Sewell(Belinda), Clanton; Mona Sewell, Montgomery; Chuck Sewell(Samantha Roberts), Montgomery; Tammy Sewell Riley (Bud); three brothers, Wilson Russell (Jean), Brewton; Charles Russell (Betty), LaPine; Maxwell Russell, Prattville; two sisters, Judy Vance, Montgomery; Joyce Sanders, Highland Home; grandchildren, Kimberley Adams, Amanda Sewell, Jordyn Mansel (Kevin), Joseph Sewell, Nicholas Sewell; great grandchildren, Whesley, Gabriele, Charlie and Callie Adams; Madison and Madelyn Davidson; Ellie Mansel; and numerious nieces and nephews.
Carol had a loving and giving heart and often worked more than one job to support her family and help friends. You may have met Carol at Carlyle & Co., or maybe when she worked at Sam's Club. Carol worked at Seton Haven until her illness progressed to its final stage.
We would like to thank family, friends and all prayer warriors. Your cards, calls, flowers, prayers, and visits were of great comfort to Carol.
Visitation will be Friday, May 25, from 5-7 pm, at Leak Memory Chapel. There will be a Life Celebration Service, Saturday, May 26, 2018, at 1 pm, at Leak Memory Chapel, with entombment in Greenwood Cemetery.
Published in the Montgomery Advertiser on May 24, 2018