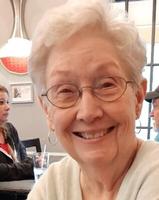 Charlotte Wyatt Brambir, 84, a resident of Montgomery, Alabama, died Monday, March 27, 2023. Mrs. Brambir is preceded in death by her parents Merrill H. and Aline Jackson Wyatt, sister Barbara Noble and a son David Carroll.
She was born on May 22, 1938, at Hubbard Hospital in Montgomery, Alabama. She attended Cloverdale Elementary and Junior High and was a graduate of Lanier High School.
She is survived by her loving husband Peter G. Brambir, daughters Carol Ann (Mark) Affeltranger of West Valley City, Utah, Shirley Leigh Carroll of Montgomery, Alabama, Susan Caldwell of Baltimore, Maryland, and Kim Paradis of Portland, Massachusetts, and five grandchildren.
During her lifetime she worked in banking, government, and real estate. She and her husband Peter loved to travel, especially cruising. They loved Art and Charlotte was an avid reader.
A Memorial service will be held on Monday, April 3, 2023 at Leak Memory Chapel at 2:00 PM with Lynn Oborn speaking. Visitation will be one hour prior to the service.
Fond memories and expressions of sympathy may be shared at www.Leak-MC.com for the Brambir family.
In lieu of flowers, memorials may be made to MAMO Scholarship Fund, 3066 Zelda Rd. PMB # 392, Montgomery, AL 36106