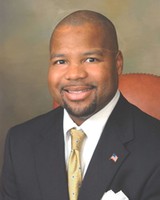 Mr. Wyndall Anthony Ivey, the son of Dianne (Joseph) Dix and Winford Tyson Ivey, Jr. was born September 5, 1974 in Tuskegee, Alabama and later reared in Montgomery, AL. Wyndall passed away unexpectedly on Wednesday, March 18, 2015 in Birmingham, AL.

A 1992 graduate of Sidney Lanier High School (Lanier Academic Motivational Program). He received an undergraduate degree in Marketing from the University of Alabama at Birmingham (UAB) in 1996. In 1999, Wyndall received a law degree from Washington and Lee University School of Law in Lexington, Virginia.

He leaves an indelible legacy, and will live on in the lives of his loving and caring parents Dianne (Joseph Sr.) Dix, Wetumpka, AL; closely bonded siblings Takisha (DaMond) Davis, Fort Leavenworth, Kansas; Courtney Murchison, Atlanta, Ga; step-brother Joseph (Maria) Dix Jr., Gainesville, GA; step-sister Shawna Dix, Atlanta, Ga; one niece Raegan Davis and three nephews Cameron Davis, Jalen Thompson, and Aaron Dix he absolutely adored. Two special Aunts, Alma (Lawrence) Ivey Clarke, Dayton, Ohio; Bessie Washington, Fayetteville, NC; a special uncle Johnny (Helen) Gray, Helotes, Texas; and many other uncles, aunts, great aunts, cousins, colleagues and friends far too numerous to name and a loving dog "Lexington (Lexi)".

Funeral services are scheduled for Wednesday, March 25, 2015 at 1:00 pm from Sixth Avenue Baptist Church, 1101 Martin Luther King Jr Dr, Birmingham, AL with Rev. John Cantelow III, officiating. Interment will follow in Alabama Heritage Cemetery, Montgomery, AL, with the McKenzie's Funeral Home Staff, directing. Visitation will be held on Tuesday, March 24, 2015, from 2:00 - 6:00 pm at Ross-Clayton Funeral Home, 1412 Adams Ave, Montgomery, AL. The body will lie in repose one hour prior to the service at Sixth Avenue Baptist Church.

McKenzie Funeral Home
1509 Notasulga Rd Tuskegee, AL 36083
334-727-1750

Published in the Montgomery Advertiser on Mar. 24, 2015.