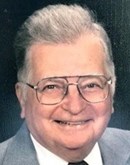 James Wheeler Sides, 89, passed away Thursday, January 18th, in Huntsville, Alabama. He was born in Jasper, Alabama on March 31, 1928, to Lola W. Sides and Charles G. Sides. He graduated with a degree in Mathematics from Middle Tennessee State University and received a Master's Degree in Educational Administration from the University of Southern California.
In 1954, James entered the Air Force and married Murlene Drake. His Air Force career took him all over the world to posts including Korea, Crete, and Germany. Their only child, LuAnne, was born while they were stationed on the island of Crete. He served 20 years in the Air Force in the field of finance administration and retired having attained the rank of Senior Master Sergeant. His second career was as a High School Math teacher and coach at Carver and Lanier High Schools in Montgomery, Alabama. He loved being a teacher but his passion was coaching basketball and football. He positively impacted many young lives, encouraging his players in their sports and their lives.
After his second retirement, Jim and Murlene moved to Fairfield Glade, Tennessee, where he was an avid golfer and an active member of Fairfield Glade United Methodist Church. In 2012, Jim and Murlene moved to Huntsville, Alabama, to be near their daughter and her family. They took great joy in spending time with LuAnne, their son-in-law, John Cannaday, and their four grandchildren.
After his wife's passing in 2014, Jim took great comfort in eating his daily breakfasts at Waffle House, cheering on the New Hope Indians Sports Teams and fellowshipping with his beloved church family at Owens Cross Roads Church of Christ.
Jim is survived by his daughter and son-in-law, LuAnne and John Cannaday and grandchildren, Daniel, Patt, Kara Drake and Eli.
A memorial service will be held at Owen Cross Roads Church of Christ on Tuesday, January 23rd, at 12:00 p.m.
In lieu of flowers, the family encourages you to take someone you love out to breakfast in Jim's memory. (www.laughlinservice.com)
Published in the Montgomery Advertiser on January 21, 2018