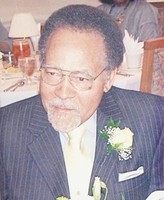 Gilbert Jones, lifelong Montgomery resident, transitioned to glory Monday, November 2, 2015 at the age of 83. Funeral services will be held at First Baptist Church, 347 North Ripley Street, on Monday, November 9, 2015 at 12:00 noon with Rev. E. Baxter Morris officiating and Rev. Dr. Farrell Duncombe providing the eulogy. Interment will follow at Alabama Heritage Cemetery. He was born on November 28, 1931. He confessed Je-sus Christ as his Lord and Savior at a tender age at historic First Baptist Church, under the pastorate of Dr. J. D. Harris. One of his fondest childhood memories was walking to church on Sunday morning and assisting his grandmother with placing flowers on the altar for the worship service. He also sang in the youth choir directed by his childhood sweetheart, Dorothy Posey, who he later married. He was the ultimate role model and provider for his wife and the five children born to their preordained union. He was preceded in death by his mother, Daisy Jones Gilmer, grandmother, Ella Jones, uncle, L.D. Jones and aunt, Ora Jones.

Gilbert Jones completed his elementary education at St. John the Baptist Catholic School and his secondary education at St. Jude Educational Institute, Montgomery, Alabama. He matriculated at Xavier University, New Orleans, LA but was drafted to serve his country in the United States Army during the Korean Conflict. Upon his honorable discharge as Technical Sergeant in 1952, he continued his college education at Alabama State College, now Alabama State University. He received a Bachelor of Science in Secondary Education in 1957.

In the fall of 1957, Gilbert Jones began his teaching career as English Instructor with Escambia County Training School, Atmore, Alabama, where he was later appointed chairman of the English Department. He was blessed to end the weekend commute to his family in Montgomery when he was hired by Montgomery County Public Schools. During his tenure with Montgomery County Public Schools, he taught at George Washington Carver Senior High School, Robert E. Lee High School, Hayneville Road Junior High School and Sidney Lanier High School. He was known for his creative approach to classroom instruction by using popular lyrics from songs of the day to illustrate the proper and improper use of grammar. He was also an advocate for the equitable treatment of all students. In 1991 he retired from Montgomery County Public Schools after 33 years of faithful service.

In his season of retirement, Gilbert Jones continued his untiring commitment to his family, friends and neighbors. He had a high priority for spending countless hours enjoying the company of his grandchildren and sharing his wisdom. He served as a volunteer with the First Baptist Church food program delivering meals to the sick and shut-in, transporting neighbors to medical appointments, and was an active member of his neighborhood association.

He is survived by his beloved wife of 62 years, Dorothy Posey Jones; four daughters and one son, Donna Armstead, Yvette Jones-Smedley, Rodney (Gayle) Jones, Sheila (Willie) Boswell, Karen (Ray) Pugh; six grandchildren, Alicia (Curtis) Pugh, Calera, AL, Larrisa Armstead, TaiKristin Smedley, Orlando, FL, Shannon Boswell, Birmingham, AL, Camilla (Brandon) Spradley, Mobile, AL, and Jordan Pugh; one great-grandchild, Alaina Pugh; aunt, Lynneth Jones, Detroit, MI; a devoted cousin, Helen J. Brooks; nephews and nieces, Wiley (Iris) Rogers, Fort Washington, Maryland, Albert (Mamye) Rogers and Charles Rogers, Macon, GA, Patricia (Harvey) Benton, Atlanta, GA, Sandra and Wilbert Adams, Columbus, GA; lifelong friends, Moses Butcher, Henry Arrington, Rockville, MD; a host of other cousins and friends. The family expresses deepest gratitude to the staff of Baptist Hospice for tender and professional care.