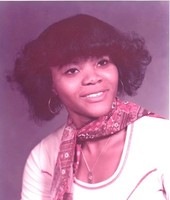 Mrs. Jaynie Watkins Lewis, 60, of Anderson, passed away on February 11, 2014 at her residence. She was born on February 17, 1953 in Hope Hull, Alabama.
Jaynie graduated from Phoenix University with an Associate's Degree in Health Administration. She worked for Lockheed Martin. She was a member of Mt. Zion Baptist Church. She enjoyed gardening and especially spending her time with her grandchildren and family. Jaynie is survived by her loving spouse, Wilbur J. Lewis, Sr., Anderson, Indiana; children, Wilbur J. (Jessica) Lewis, Fishers, IN. and Christopher Andre Fields; grandchildren, Deacon Lewis and Clarissa Fields; siblings, Mary Ann Atterberry, Annie Mae Watkins, William Watkins, Rebecca Watkins, Geames Watkins, Minnie Williams, James Watkins, Dorothy Watkins, Josie Watkins and Carolyn Coleman as well as several nieces and nephews.
She was preceded in death by her mother, Mary Watkins and father, Willie Watkins.
Funeral services will be held on Sat., February 22, 2014 at 1:00 pm from Freewill Baptist Church. Interment will follow in Gilmer Cemetery, Hope Hull, Alabama, with Phillips-Riley Funeral Home directing.
Published in the Montgomery Advertiser from Feb. 18 to Feb. 20, 2014.