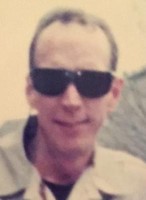 George Forrest Bailey, III, 65, a lifelong resident of Montgomery and a much-adored husband, father, brother and friend, died Monday, September 4, 2017. He was preceded in death by his parents: George Forrest "Bubber" Bailey, Jr. and Mary Gene Dunwody Bailey. He was a graduate of Jefferson Davis High School, Auburn University, and recently retired after 33 years as a natural resources section chief for the Alabama State Parks.
Forrest served honorably for 23 years as an aircraft ordnance mechanic with the 187th Fighter Wing of the Alabama Air National Guard and was a decorated Gulf War II veteran. He loved the music of his generation and the outdoors, where he joyfully hunted and fished at every opportunity. He was the primary consultant for the 1987 book, "Hunting, The Southern Tradition," and was quoted then as saying: "To experience the forest come alive gives you the satisfaction of knowing things are right with the world."
Forrest is survived by his wife of 33 years: Angela Shadrick Bailey; a daughter: Mary Lackey Bailey; a stepson: Mike McRae; a brother: the Rev. Richard Dunwoody Bailey and his wife, T.C. Rogers Bailey and a sister, Linda Bailey McLemore and her husband, Harold.
Following a private burial, funeral services will be conducted at noon, Friday, September 8, at St. James United Methodist Church by the Rev. Lester Spencer and the Rev. Richard Bailey. The family will receive friends one hour prior to the service.
Pallbearers are Penn Cook, Tommy Oliver, Woody Thrasher, Scott Williams, Bill Heilpern, Bill Parsons, Rex Donley and Scott Andrews. Honorary pallbearers are George "Chip" Dean, Bobby Brantley, Dan Winn, Johnny Smith and The Gate Band.
Forrest had a great love and respect for the ongoing mission work of his brother and sister-in-law, Richard and T.C. Bailey in Perth, Australia. In lieu of flowers, the family requests donations in support of their work.
Mail to:
Account #10790
Mission To The World
P.O. Box 744165
Atlanta GA 30374
or donate online at Mission To The World - Richard and Teresa Bailey.
The world will miss you for many reasons, Forrest, among these your bolo ties, sense of humor, gentlemanly behavior, and abiding loyalty.
"Will the circle be unbroken
by and by, Lord, by and by.
There's a better home a-waiting
in the sky, Lord, in the sky."
Published in the Montgomery Advertiser on Sept. 7, 2017.