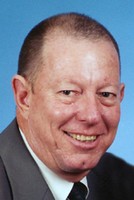 October 1, 1948 - June 27, 2012
Memorial service for Mr. James Lowell Chambers Jr., age 63 of Fayetteville, will be conducted Saturday at 12 p.m. at Fayetteville First Baptist Church with Rev Van Johnson officiating. Mr. Chambers passed away Wednesday morning at his residence.
A native of Greenville, AL he was the son of the late Dr. James Lowell Chambers Sr. and Billie Carolyn Davis Chambers who survives. Mr. Chambers served in the U.S. Air Force, was an electrical engineer for Amana and Intergraph, taught at Riverside Christian Academy, and was currently head of the Lincoln County American Red Cross and was a member of the Fayetteville First Baptist Church.
Survivors in addition to his mother include his wife Peg Chambers of Fayetteville, son Jim Chambers and wife Melissa of Vanntown, daughters Heather Smith and husband Robert of Fayetteville, Mary Margaret Alverson and husband Brad of Fayetteville, Katie Templeton and husband Brannon of Molino, brothers Mark Chambers and wife Laura of Auburn, AL Bill Chambers and wife Sharon of Gulf Breeze, FL grandchildren Rob, Peyton and Tia Smith, Cailey and Molly Alverson and Carson and Caroline Templeton, great granddaughter Maylee Johnson, niece Catherine Chambers, nephews Nathan, Hunter and Mark Chambers.
Visitation with the family will be Friday evening from 5:30 – 7:30 p.m. at Higgins Funeral Home.
In Lieu of flowers memorials can be made to the Multi-County Cancer Support Network or Lincoln County Hospice and Home Health.Health.