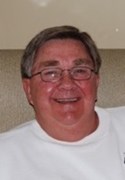 James "Bunny" Sansom, age 71, of Hoover, Alabama, passed away Tuesday, September 13, 2016. He was born July 9, 1945 in Montgomery, Alabama. He was predeceased by his parents, Thomas Sansom and Mary Claire Brady Sansom, and one sister, Eleanor Sansom Tillery.
Bunny was a wonderful husband, father, and grandfather, and a loyal friend who never met a stranger. He was a successful businessman, founding in 1987 the Sansom Equipment Company, still in operation today. He was a loyal member of the Misfits Sunday School Class at Green Valley Baptist Church, Hoover.
Survivors include Bunny's wife, Judy Carnathan Sansom; one son, Jason Harlan Wyers (Mary); two daughters, Sonya Sansom Wilson (Jeff) and Whitney Wyers Klinefelter (Chris); grandkids, Harlan Wyers, Sarah Kate Wyers, Mary Claire Wilson, Jackson Wilson, Christopher Klinefelter Jr., Anna Klinefelter, and Audrey Klinefelter; one sister, Juanita Sansom Sullivan (Tommy); and two brothers, Thomas Sansom Jr. (Helen) and Michael Sansom.
The family would like to thank Dr. Mark Bridges and staff of Hematology & Oncology Associates of Alabama for their compassionate care for our husband and father.
Visitation will be 1-2 p.m. on Friday, September 16, 2016 at Ridout's Southern Heritage Funeral Home in Pelham, Alabama, immediately followed by the 2 p.m. funeral in Ridout's Southern Heritage Chapel. Entombment will be at Southern Heritage Cemetery, Pelham. Pastor Jeff James will officiate.
Misfits Sunday School Class members will be honorary pallbearers.
The family requests in lieu of flowers, memorial gifts be made to:
The Building Fund
Green Valley Baptist Church
1817 Patton Chapel Road
Hoover AL 35226
Published in the Montgomery Advertiser on Sept. 14, 2016.