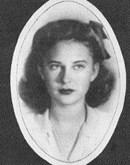 Carolyn Wagner Thornton passed away peacefully on September 23, having outlived three husbands and most of her many friends. Carolyn was born in Montgomery to Mabel Leigh Hodges and Joseph Philip Wagner in 1926. She was a popular member of the Sidney Lanier Class of 1944 and regarded by many as possessing an uncanny resemblance to Vivian Leigh, the celebrated actress. As a young woman, Carolyn was married to Robert Ernest Stanford and attended Huntington College until her first child, Robert, Jr. was born. Although she was widowed at age 23, her strong faith allowed her to persevere, raise her three children, and remain the matriarch of her family until she died.
For many years Carolyn was a Sunday School teacher at First Baptist Church of Montgomery. In her later years, she was a proud member of the Tower Sunday School Class at First Methodist Church. Carolyn was also active in many civic and social organizations in Montgomery throughout her long life. More than anything else, Carolyn enjoyed time spent with her family, particularly in the outdoors on the family property at Lake Mitchell in Coosa County.
Carolyn was preceded in death by husbands, Robert E. Stanford, James L. Van Ryzin, and Jules H. Thornton; son, Joseph Philip Stanford; and step-daughter, Mary Lou Van Ryzin.
She is survived by her daughter, Leigh Stanford McKee (Walter); son, Robert E. Stanford Jr. (Melba) of Birmingham; grandchildren, Ashley Stabler Gallion, Meredith Stabler Kilgore (Matt), and Katherine Harris Stanford; great-grandchildren, John Stabler Gallion, Will Gallion, Aubrey Kilgore, and Matt Kilgore; cousins, Pat Cox (Beverly) and Jeff Cox (Becky); step-daughter, Sharon Van Ryzin Mannor; and step-grandson, Michael Mannor.
Carolyn's family would like to express their sincere gratitude to devoted caregivers Pat Wilson and Liza White; faithful friend, Ceil Webb; and the considerate staff at Waterford facility.
Her Memorial Service will be held in the Chapel of First Methodist Church of Montgomery on Friday, September 28, with Visitation at 10:00 am and the Service at 11:00 am.
Online condolences may be made at www. Leak-MC.com.
"When she speaks, her words are wise, and she gives instructions with kindness" Proverbs 31:26.
Published in the Montgomery Advertiser from Sept. 27 to Sept. 28, 2018.