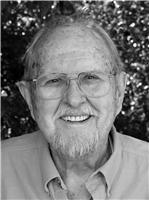 Evans Thomas (E.T.) Baisden, Jr., age 88, passed away June 12, 2013, after a brief illness. He was born June 28, 1924, to Evans Thomas and Lucile Cody Baisden in Montgomery, Ala.
E.T. grew up in Montgomery, Alabama where he graduated from Sidney Lanier High School. After graduation he joined the Army Air Corp during World War II and became a flight instructor in Oklahoma where he taught new pilots ("the 90 day wonders") to fly B-25s.
After his military service he attended Auburn University majoring in aeronautical administration. One of the great loves of his life was jazz music. He became a drummer, playing in well-known bands in and around the Montgomery area.
A growing family necessitated a career change where he went into sales and later into building and home remodeling. He continued his love of arts pursuing woodworking and oil painting. He was a member of Benevolent and Protective Order of the Elks, rising to Grand Exalted Ruler of the Fort Walton Beach lodge. After retirement he enjoyed traveling, visiting with family and the never-ending redecoration of their home.
He was preceded in death by his parents and is survived by his best friend, soul mate and wife of 40 years, Gloria Audrey Baisden. He is also survived by his daughter, Kim Merhar; son, Larry, his wife, Susan, and their son, Evan; and son, Robert Baisden, and his daughter, Nicole; step-daughter, Leta, and her husband, Jay Crittenden M.D., their son, James Davis, and his wife, Linda Davis, and their children, Melissa, Joshua and Sydney; son, Gregory Davis and his wife, Shanon, and their children, Hylton, Hayden and Harper; step-son, Gary Meyers and his wife, Glenda, and their daughter, Miranda Meyers.
Visitation will be on Saturday, June 15, from 3:30 to 4 p.m., at Faith Chapel Funeral Home, 100 Beverly Pkwy, Pensacola, FL 32505 with funeral services following at 4 p.m. In lieu of flowers, contributions may be made to Covenant Hospice, 5041 N. 12th Ave., Pensacola, FL 32504.
Faith Chapel Funeral Home South is in charge of arrangements. You may express your condolences online at www.fcfhs.com.
Published in Northwest Florida Daily News from June 14 to June 16, 2013