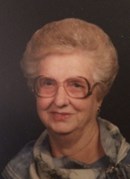 Ruth Rea Howell, Mama Ruth to most of those who knew and loved her, was born August 13, 1914. She lived through the Great Depression and two World Wars, bravely, and with Christ always by her side. Christ came to her side once more Tuesday, September 13, 2016, to have her walk with Him in His presence.
Along with her church activities, she worked in the Alabama State legislature until she was in her 80's. She was a fabulous cook and insisted on preparing every meal herself even after turning 100. Her life was filled with giving of herself and always putting others first. She was a treasure to all that knew her, and she will be sadly missed. Those who knew her were enriched by her spirit and her love of God. She loved her family dearly, and they loved her and will miss her forever.
Reaching the age of 102, many of her loved ones preceded her in death including her husband, Dan, her sister, Edith Bourne, and brothers, Fred Rea and Buck Rea, along with son-in-law, Bob Forrester. She is survived by her daughters, Jane Forrester and Barbara Daugherty and husband, Bill; three grandchildren, Robbie Forrester (Stephanie), Mark Forrester (Katie) and Michael Denham (Tracy); five great-grandchildren, Tyler and Tinsley Forrester and Ella, Caroline, and Ben Denham; nieces, Peggy Guthrie (Roy), Gloria Chancellor, Jennifer Smith (Chris), and Pat McDonald (Geary); and nephews, Bobby Bourne (Carolyn) and Tommy Bourne (Margie).
Visitation will be held at Brentwood-Roesch-Patton Funeral Home, 9010 Church Street East, Brentwood, TN, 37027, on Thursday, September 15, 2016, at 10 am. with the celebration of her life following at 11 a.m., Robbie Forrester officiating. Graveside service will be Saturday, September 17, 2016, at 10 a.m., Greenwood Cemetery, 909 Lincoln Road, Montgomery, AL 36109. In lieu of flowers, the family asks that donations be made in Mama Ruth's name to Bellevue Church of Christ, 7401 US-70S, Nashville, TN 37221.
www.brentwood-roesch-pattonfh.com
Brentwood Roesch-Patton Funeral Home
615-383-4754
Published in the Montgomery Advertiser on Sept. 15, 2016.