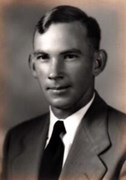 William T. Willis was born August 26, 1923, and passed away on April 9, 2017, after a brief illness. William was a lifelong resident of Montgomery. He was preceded in death by his loving wife of 57 years, Vivian Anderson. William is survived by his two sons, Mark Willis and Stephen Willis.
After graduating from Sidney Lanier High School he earned a bachelor's degree from Auburn University, followed by a master's degree from Harvard University. William served in WWII as a Combat Engineer. He served 40 years in the State Health Department where he was the Director of Radiological Health and the Director of Alabama Department of Environmental Management. William was a member of Harvest Family Church.
A Visitation will be held at Leak Memory Chapel on Friday, April 14, 2017, from 1:00-2:00 with a Celebration of Life following at 2:00 p.m. in the Chapel.

In lieu of flowers, donations may be made to Harvest Family Church in his honor.
Published in the Montgomery Advertiser from April 12 to April 13, 2017.