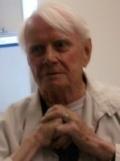 James Bryant ("JB") DePriest was born on September 10, 1923 in Montgomery, the youngest child of Sidney Herman DePriest and Emma Frances (Morgan) DePriest. He died on November 28, 2013, in Hoover. He was preceded in death by his siblings, Lenore and Sidney Howard, and is survived by his cousin, Jacqueline McNeal of Eclectic, and a host of nephews, nieces and cousins, admirers one and all.
JB graduated from Sidney Lanier High School in Montgomery and the University of Alabama. His studies at Alabama were interrupted by his service in the Army Air Corps in World War II. He was a B-17 navigator in the 384th Bombing Group stationed in Grafton Underwood, England, and flew numerous combat missions, including the April 25, 1945 mission to the Skoda Armament Works in Pilsen, Czechoslovakia, the final bombs dropped in the European theater in World War II. He was proud of his service, and solemn in its mission.
Returning to Alabama, he completed his studies at the University and embarked upon a long career in commercial insurance, much of it with the Moulton, Allen, and Williams agency in Birmingham. He was active in his community as a long time board member of the Girl Scouts Council and a member of the Vestavia Hills Country Club. He remained an active member of his beloved college fraternity, Phi Gamma Delta, as can be attested by his personalized license plate, "FIGI AL".
JB was an artist, a traveler, a gardener, a tinkerer, and a chef. He loved mahogany inboard boats, vintage automobiles, and Manhattans with extra sweet vermouth. He was a serious gin rummy player, with the emphasis on serious. He was a dog lover, but not particular about the breed. Instead, he preferred a dog that could smile.
Funeral arrangements for Mr. Depreist will be Wednesday, December 4, 2013 at 10:00 AM from Ridout's Valley Chapel Funeral Home in Homewood, AL, the family will receive friends from 9 to 10:00 AM at Valley Chapel. Burial will follow at Greenwood Cemetery in Montgomery, AL at 1:00 PM.
His family wishes to acknowledge the care and support JB enjoyed from the staff and his friends at Galleria Woods.
Condolences to the family can be left at ridoutsvalleychapel.com.
Published in The Birmingham News from Nov. 30 to Dec. 1, 2013