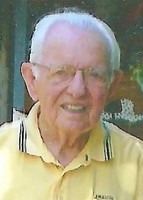 William (Bill) Hunter Weldon, 92 yrs., Montgomery, Alabama, died Friday morning, July 11, 2014, at the Crowne Respite Center, Montgomery, Alabama. He was born on February 6, 1922 in Montgomery, Alabama. Mr. Weldon was the son of Melvin A. and Edith Vann Weldon. He was preceded in death by his parents , sister, Mary Frances Hardeman and his son, Michael Allen Weldon. He was a U.S. Navy veteran of WWII and the Korean War.
Mr. Weldon is survived by his wife of 67 1/2 years, Jewell McLain Weldon, who were married on December 22, 1946 and has two daughters Rebecca (Beckie) Weldon Fulcher (wife of Rev. Mac Fulcher) and Barbara (Bobbie) Weldon Canada (wife of Col (R) Arnold J. Canada).
Mr. Weldon was a graduate of Lanier High School and worked as a sales representative for Teague Hardware from 1947 to 1965 and Martin Senor Paints for over 25 years, where Mr. Weldon was named the 1987 National Salesman of the Year. He was a faithful member of the Dalraida United Methodist Church Congregation since 1952 where he served in many leadership positions. Mr. Weldon also conducted extensive volunteer work at Baptist Hospital in Montgomery, Alabama and Sacred Heart Hospital in Port St Joe, Florida.
Mr. Weldon had seven grandchildren, Rachael Irene Bedell (David), Malcolm W. Fulcher, III (Sophia), Micah William Fulcher (Jessica), William Rocky Wright (Charlene), Robin Marie Pokswinski (Scott), Rebecca (Becky) Canada Styll (Justin), John Thomas "JT" Sims (Hunter), fourteen great grandchildren and two nieces, Linda Maxwell (wife of Joey Maxwell) and Debbie McWilliams (wife of Johnny McWilliams).
Funeral services will be Tuesday, July 15, 2014, 11:00am at Dalraida United Methodist Church with visitation one hour prior to the service. A private family burial will follow after the service. On line condolences may be made at www.LEAK-MC.com.
Published in the Montgomery Advertiser on July 13, 2014