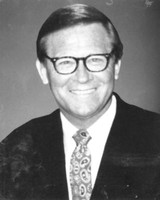 Allyn Mabson Thames, age 94, a resident of Montgomery, Alabama died Tuesday, October 14, 2014. Mr. Thames was preceded in death by his first wife, Willa Rutland Thames; brothers, William K. Thames (Elizabeth), Joseph C. Thames (Nell), Stewart Thames; a sister Jenny T. Moore (Randolph).
He is survived by his wife Katherine Trawick Thames; a son, Allyn M. Thames Jr. (Katie) both of Montgomery, AL; a daughter Gray Thames Thuston (Lee), of Birmingham, AL; stepson, Hugh B. Thornton Jr. (Cecelia), of Birmingham, AL; stepdaughter, Katherine Thornton Beachum, Chapel Hill, North Carolina; sister-in-law, Geraldine Thames, of Montgomery, AL; beloved grandchildren, Dr. Allyn M. Thames III (Ashley) of Auburn, AL, Christopher R. Thames (Adrienne) of Birmingham, AL , Thames Schoenvogel (Robert) of Birmingham, AL, William Lee Thuston (Ginger) of Birmingham, AL, H. Hampton Beachum, Hunter S. Beachum, Henry B. Beachum, of Chapel Hill NC; and eleven great grandchildren and several nieces and nephews.
Mr. Thames was born in Greenville, Alabama moving to Montgomery with his family at age 3. He was an active member of the Church of the Ascension and later a member of St. John's Episcopal Church where he served on the vestry and taught Sunday school. As a young man, he worked in the lumber business for his brother, William K. Thames, after which he was employed as the youngest manager of the Montgomery County Club, later serving as its President 1962-1964. He was the owner of General American Credit Reporting Co. and remained with this company until his retirement. Years after retirement, he rejoined the work force in the personnel firm of Career Personnel Consultants.
Mr. Thames was an avid golfer, enjoying the game his entire life. He gave his time to this sport serving as President of the Alabama Golf Association and also the Southern Golf Association as a Director and Vice President. He annually participated in the management of the So. Amateur Championship as sectional committeeman for the USGA qualifying. In 1957, he won the MCC Golf Championship and in 2002, Mr. Thames was honored by receiving the Jock Inglis award for his lifelong efforts to enhance the enjoyment of golf.
A memorial service will be held 11 AM at St. John's Episcopal Church on Friday, October 17, 2014 with visitation from 10:00-11:00 AM. A private burial for family members will follow the service. His grandchildren will serve as pallbearers.
Honorary pallbearers are John Beggs, Fred Blackmon, Jefferson Davis, James Fuller, Dr. James Guest, Judge Perry Hooper, Dr. Woodward Lamar, Jere Longshore, Jack McLemore, John Yow, Dr. McGarock Porter, Glenn Price, Jack Smith, Harry Simon, George W. Thompson Sr., John M. Trotman, James N. Walter Sr., and Irving Winter.
In lieu of flowers, memorials may be sent to St. John's Church Building Fund, The Montgomery Humane Shelter (1150 John Overton Dr.), The Diabetes Association (P.O. Box 1834, Merrifield, VA 168034) or one's favorite charity.
Published in the Montgomery Advertiser from Oct. 16 to Oct. 17, 2014.