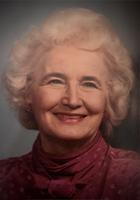 MARGARET J REED - NOVEMBER 1, 1920 – DECEMBER 20, 2013
Margaret Johnson (Margie) Reed, age 93, went peacefully into the arms of the Lord on Friday, December 20, 2013. Margaret was known as a devoted and loving wife, mother, grandmother, and friend who worked tirelessly and took great pride in doing what she knew was right for work, family, and friends. Her greatest pride came in giving to others.
Margaret, along with her older brother and sister Mildred and sister Merle, was raised by Mack Johnson, who was a loving, determined and dedicated father, who never remarried after her mother died in childbirth when Margaret was three years old. She spent her early years on a farm on Woodley Road in Montgomery and graduated from Sidney Lanier High School.
Margie was employed at the Montgomery Fair department store (later Gayfer's) downtown on Court Square when she met her husband Hobart (Hoby) Reed, a native of Bass Harbor, Maine, in 1948 when he came to work as a trainee at the Montgomery Fair. They fell in love and were married in 1949 at which time Margie resigned from her work at the store and devoted herself to being a wonderful wife and mother. Margie, the Alabama girl, was welcomed into Hoby's large and loving family in Maine, dearly loved them in return, and delighted in their annual visits to Maine that continued for over 50 years.
They moved to Opelika In 1950 where Hoby became manager of the Montgomery Fair store in Opelika. They made many 'dear' and lifelong friends including Judy and Julien Phillips. In 1955, their only child, Trabo was born. In 1957 they returned to Montgomery where Hoby became manager of the newly opened Eastbrook Montgomery Fair store. Their good friends, the Phillips, also came to Montgomery around that time and they all joined and were faithful members of the Tower Class of the First United Methodist Church where many more lifelong friendships were made.
For many years while raising her son, Margie delighted in the Dalraida neighborhood where they lived. She volunteered at Dalraida School and took great joy in her dear friends and neighbors and their children on Marie Cook Drive including Claire and Henry Steindorff and Carolyn and Jabbo Culver.
In the late 1960s, Margie decided it was the right time to go back to school where she received her undergraduate degree in Accounting from AUM. In 1973, at age 53, she went to work as a budget analyst for the Alabama Department of Industrial Relations. She dedicated herself to her work and delighted in the good people with which she worked for over 30 years, before retiring in 2005 when she saw it was the right thing to do at age 85.
'Hoby' also began work in 1973 with the State Department of Finance's Printing and Publications Division from which he retired in 1997. One of her proudest accomplishments was the fact that she continued her education and got Hoby to join her so they could go through graduation together in 1976 earning master's degrees in business from AUM.
Probably, Margie's proudest moment was in 1990 when her beloved grandson Trey was born. Margie fully fulfilled the role of a proud loving and frequently too generous mother, mother-in-law, and grandmother. She will be sorely missed by her family who feels deeply blessed to have had her with them for so long.
A service celebrating her life, officiated by Dr. Lawson Bryan, will be held on Monday, December 23, 2013, at 2:00 PM at the First United Methodist Church, Montgomery, Alabama. The family will receive friends from 1:00 to 2:00 PM in the Fellowship Hall of the church.
Survivors include her son Hobart F. (Trabo) Reed, Jr., daughter-in-law Kelli Reed, grandson Hobart F. (Trey) Reed, III, and her beloved nephews Andrew Guy (Andy) Duncan, Charles Harris, Ashley Johnson, and Mack Johnson as well as many beloved members of her family in Maine.
The family wishes to express its deepest appreciation and gratitude to her beloved and dedicated caregivers Patricia Cobb and Joyce Rogers who are considered members of the family.
Margaret was preceded in death by her parents Mattie Eldora Batson Johnson and McIver Palestine Johnson, her sister Mildred Johnson Duncan, her brother Merle Johnson and her beloved and loving husband of 54 years Hobart Fuller (Hoby) Reed.
Pallbearers are Andy Duncan, Charles Harris, Ashley Johnson, Shan Paden, Bob Phillips, and Scott Williams.
Honorary pallbearers are the members of the Tower Class of the First United Methodist Church.
Memorial contributions may be made to the

Respite Ministry
First United Methodist Church
2416 West Cloverdale Park
Montgomery AL 36106

or to the

Stegall Seminary Scholarship Foundation
P.O. Box 241661
Montgomery AL 36124.
Under the Care Of Leak Memory Chapel.
https://www.dignitymemorial.com/obituaries/montgomery-al/margaret-reed-5784455