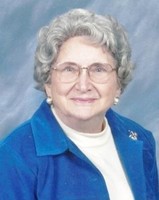 Ethel Mathews McAuley, beloved mother and friend, passed away on November 19, 2014. Ethel was a longtime resident of Montgomery. Born Ethel Marguerite Mathews in 1920 in Andalusia, Alabama, she was raised in Montgomery.
Ethel was a graduate of State College for Women Montevallo, now University of Montevallo. Ethel moved to Washington DC during World War II where she began her career with the US Government and met her husband, John. Following the war she took time out to raise her three children before returning to work in various government departments, including the National Parks Service in the Department of Interior where her last job was involved with establishing the National Trail System administered by the Secretaries of the Interior and Agriculture.
After retirement in 1975 Ethel accompanied her husband, John, to Ethiopia where he set up a cattle research program funded by the World Bank. A love of travel led them on a year long trip around the world from there. They continued to make a big trip every year including driving to Panama from Montgomery. Following John's passing she was able to visit family members in Asia and Europe. Ethel's many interests included gardening, needlework, entertaining in her home, attending the symphony, volunteering at First United Methodist Church West Cloverdale and visiting with friends and family.
Ethel was preceded in death by her husband, John P. McAuley, sisters Doris K. Mathews, Grace Mathews Starr and brother Robert W. Mathews Jr, all of Montgomery. She is survived by three children: Wesley M. McAuley (Sally) of Montgomery, Norma McAuley Bohm (Dwight) of Asheville NC and John S. McAuley (Cheryl) of Huntsville; four grandchildren: Darin Bohm, Shannon Bohm Lahiji, John McAuley, Robert McAuley; and six great-grandchildren.
In lieu of flowers, contributions can be made in Ethel McAuley's name to First United Methodist Church West Cloverdale, Montgomery, Alabama, 2416 W Cloverdale Park, Montgomery, AL 36106.
Published in the Montgomery Advertiser on Nov. 21, 2014.