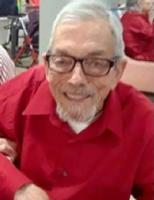 Sam is survived by his wife of 47 years, Sharon Smith Shell. He had five children, 11 grandchildren, and one great-grandchild. Joy C. Shell Shelton, spouse Brent Shelton; children: Lauren Shelton Corum, spouse Zack Corum, Haley Shelton Kemple, spouse Joseph Kemple, son Levi Kemple; and Ethan Shelton; Samuel Forrest Shell, spouse Doris Poole Shell; children: Samantha Shell Eudy, spouse Caleb Eudy; David Shell; Dawn Shell Broyles; children: Aaron Broyles, Allison Broyles, Ian Broyles and Emma Broyles; Jonathan Shell, spouse Katja Faquet Shell; children: Jack Shell and Henry Shell; Sharon Samantha Shell.
Sam served over 60 years as a Minister of Music in various churches.
He was born in Montgomery, Alabama, and resided in Knoxville, Tennessee at the time of his death.
Receiving of friends from 2:00 until 3:00 p.m., service to follow at 3:00 p.m. at Norwood Baptist Church, located at 1725 Wilson Road, Knoxville, TN 37912.
Facebook virtual ink to service: nbcknox.org​​​​​​.