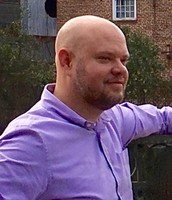 Michael Wayne "Mike" Mulcahy, a resident of Wetumpka, Alabama was born on July 21, 1977, in Montgomery, Alabama and passed away on Sunday, March 5, 2017, at the age of 39.
The family will receive friends from 5:00 p.m. until 6:00 p.m. on Friday, March 10, 2017, at Gassett Funeral Home. Memorial services are Friday at 6:00 p.m. at Gassett Funeral Home Chapel with Rev. Rhon Carlton officiating.
Michael is survived by his wife, Brandi Mulcahy; sons, Zackeriah Mulcahy and Tristan Mulcahy; mother, Shelia Mulcahy; father, Jerry Mulcahy; brothers, Daryl Mulcahy (Jessica) and Marc Mulcahy (Alessandra); and a host of nieces, nephews, cousins, other family members, and friends.
Honorary pallbearers are Anthony Martin, William Collier, Joe Gunn, Richard Martinez, Justin Merry, Daryl Mulcahy, Scott Weed, and Donnie Baker.
In lieu of flowers, memorial contributions are requested to a fund at the Alabama State Employees Credit Union (ASECU) for the care, future needs, and educational opportunities for his sons.
Visitation
Friday, March 10, 2017, 5:00 PM - 6:00 PM
Gassett Funeral Home
204 East Charles Avenue
Wetumpka, AL 36092
Memorial Service
Friday, March 10, 2017, 6:00 PM
Gassett Funeral Home Chapel
204 East Charles Avenue
Wetumpka, AL 36092