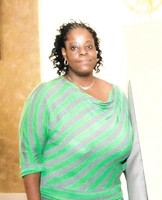 Ms. Tonda Gray, 40, a resident of Montgomery, Alabama, expired Saturday, March 7, 2015.
She leaves to cherish her memories: two loving daughters, Khadija and Keosha Glenn; loving, caring mother and father, Bruenetta and Marion Talley, of Montgomery, AL; two sisters, Erica Gray and her twin, Tammy (James), Montgomery, AL; two brothers, Eric (Daisy), Jacksonville, FL and Marion Talley, III, Montgomery, AL; two aunts, Mattie Cochran, Detroit, MI and Willie Ruth (Harrison) Johnson, Montgomery, AL; uncle, Charlie (Patricia) Gray, Montgomery, AL; two nieces, Latesha and Tamara Dotson, Montgomery, AL; three nephews, DeMarquez, Marerrius and Kendarrius Gray, all of Montgomery, AL; one great nephew -whom she loved dearly, JaMarion Jackson, Montgomery, AL; close friends, Annetta Miller, Wilma Peak, Eleanor Daniel and a second mom, Rosetta Foxhall, of Montgomery, AL; a host of other relatives and friends.
Funeral services will be held Saturday, March 14, 2015, at 12:00 Noon from Freewill Bapt. Church with Pastor E. J. Nettles, Sr. officiating. The body will lie in repose one hour prior to funeral services. Interment will follow in Kindle Cemetery with the staff of Phillips-Riley Funeral Home directing.
Phillips-Riley Funeral Home
2284 West Fairview Avenue Montgomery, AL 36108
(334) 263-0477
Published in the Montgomery Advertiser from Mar. 11 to Mar. 13, 2015.